Displaced by Katrina, Sally Heller Writes of DePauw in New Issue of Art in America
November 6, 2005
Also: 'Material Minutiae' of New Orleans Artist Sally Heller, August 24-December 4
November 6, 2005, Greencastle, Ind. - Artist Sally Heller writes of evacuating her hometown of New Orleans as Hurricane Katrina approached and makes several mentions of DePauw University, where her work is currently being exhibited, in the November 2005 issue of Art in America. Heller was scheduled to open another exhibition at Montserrat College in Massachusetts on September 23, three weeks after she left New Orleans. "I couldn't get back to ship the work," she writes. "Overwhelmed, I didn't see how I could put the show together."
After settling at a temporary apartment in Dallas, "I had agreed that since I couldn't ship any work, I would do a new installation with the Montserrat students, and we would organize the materials on-site," Heller continues. "I had several boxes of materials left over from an ongoing installation at DePauw University, and those were shipped east from Indiana. I began to consider how the new piece might convey the psychological aspects of the storm as well as the physical ones."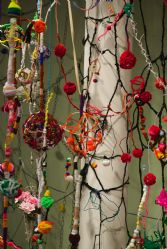 Heller settled on a piece to be called Calamitrees, which "suggested a topsy-turvy landscape about to combust." Arriving at Montserrat, Heller and students purchased materials and relied on others sent from Greencastle. "DePauw had sent colorful flowers, yarn, chenile stems and jars of little plastic musclemen (shaped to perch on the edge of cocktail glasses) found at the 'girls' night out' counter in an Indiana thrift store."
The magazine article points out that "'Sally Heller: Material Minutiae' is at the Peeler Center of DePauw University in Greencastle, Ind., through December 4."
Visit the magazine online (a subscription is required to read articles) by clicking here. Learn more about "Material Minutiae" (pictured at right) here.
Back