The Countdown to the 112th Monon Bell Classic is On!
November 8, 2005
Watch Live Video Webcast; Listen Live via WGRE Radio; Alumni Telecast Party Information; Pre-Order Your Monon Bell DVD; Access Game Notes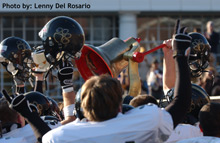 November 8, 2005, Greencastle, Ind. - The stakes will be high and Blackstock Stadium will be filled to capacity Saturday, when DePauw University hosts Wabash College in one of college football's greatest rivalries, the 112th Monon Bell Classic. Even though tickets for the game were, per usual, accounted for very quickly, there are still many ways to see the sold-out game, which begins at 1 p.m. Saturday afternoon.

[Download Video: "See The Ballad of the Monon Bell" 9346KB]

[Download Audio: "Hear The Ballad of the Monon Bell" 2900KB]
DePauw enters the contest at 7-1 with seven straight wins; Wabash is 9-0. DePauw,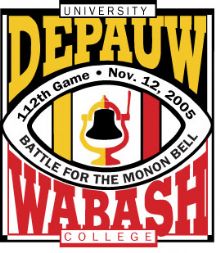 tied for the Southern Collegiate Athletic Conference lead, is vying for a spot in the NCAA Division III playoffs. Wabash, which won the North Coast Athletic Conference, has already qualified for postseason play. The all-time series is tied at 51-51-9 with DePauw holding a slim 35-32-6 edge in games played for the coveted trophy.

[Download Video: "2004 Monon Memory" 7774KB]
For the second straight year, the game will be telecast nationally on DirecTV Channel 321 and locally on WHMB (Channel 40 in Indianapolis). An on-campus telecast party will take place in the ballroom of the Memorial Student Union Building. The telecast will also be carried on student television outlet D3TV (Channel 3 on campus cable, with a pre-game show beginning at 12:30), and WHMB's signal is available on Channel 9 on the Greencastle cable system.

[Download Video: "1940 Monon Memory" 3567KB]
Alumni parties are being planned in a record-tying 52 cities across America. Come and bring friends to cheer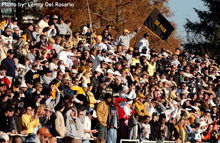 on the Tigers as they battle to keep the coveted Bell.

[Download Video: "1989 Monon Memory" - 3523kb]
A live webcast of the telecast is being provided at the homepage of LeSEA Network, which is producing the broadcast.
And student radio station WGRE will have all the action, beginning at 10 a.m. with the award-winning pre-game show, Tiger Countdown to Kickoff.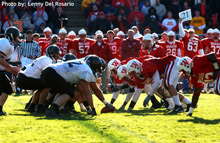 [Download Video: "1973 Monon Memory" - 1833kb]
Broadcast outlets looking for highlights of the game can pull in a KU-band feed. The coordinates are: Digital Ku-band SBS-06/11 SCPC SLOT "C" (74'W), U/L: 14271.000 MHz ,Vertical D/L: 11971.000 MHz, Horizontal Allocated Bandwidth (MHz): 9.000.
You can pre-order your DVD of this year's contest for a pregame "early bird"
low price of $10 and order copies of the 2004, 2003, 2002 and 2001 Bell Battles here.
Visit the Monon Bell Web page by clicking here.

[Download Video: "1997 Monon Memory" - 2985kb]
An online poll conducted this summer at ESPN.com determined the Monon Bell Classic to be Indiana's best sports rivalry. Learn more in this previous story.
Back