Dvorak's 'New World' Symphony Featured in DePauw Orchestra's Thanksgiving Week Concert
November 20, 2005
November 20, 2005, Greencastle, Ind. - A Thanksgiving week concert by the DePauw Symphony Orchestra and director Orcenith Smith will connect with the annual celebration of our national heritage by performing one of the most inspired orchestral works about America: Antonin Dvorak's "New World" Symphony. The event, which is free and open to the public, will take place on Monday, November 21 at 7:30 p.m. in the DePauw Performing Art Center's Kresge Auditorium.
Written by the Czech composer, the "New World" Symphony was the musical culmination of Antonin Dvorak's time in the United States from 1892 to 1895. Arriving in New York at the request of Jeannette Thurber, president of the National Conservatory of Music in America, Dvorak was asked to help in the creation of a national American style of art music. A celebrated advocate of musical nationalism in his own homeland, Dvorak sought to capture and write down what he perceived to be the American sound by turning to its folk music. Gathering music from Native Americans and African-Americans to assist him in this task, the "New World" Symphony was premiered by the New York Philharmonic at Carnegie Hall on December 16, 1893 to great acclaim.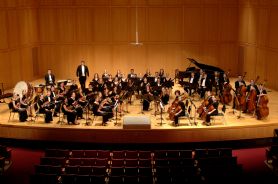 Featured on the program alongside the Dvorak will be two works which speak to the deep meaning of our human condition, Mozart's Overture to The Magic Flute and Morton Gould's "Elegy" for strings. Gould's "Elegy," composed after he had already written music for an NBC miniseries on the Holocaust, serves as a most poignant reminder, while Mozart's final opera sought to bring noble clarity to the eternal battle of good versus evil. The overture's performance also serves as a bit of musical foreshadowing, as The Magic Flute will be performed by the DePauw Opera from March 2-5.
Visit the DePauw School of Music online by clicking here.
Back