Mikhail Gorbachev's DePauw Appearance Covered by an Unlikely Source: Lawn & Landscape Magazine
November 9, 2005
Also: "We Only Have a Common Future," Mikhail Gorbachev Tells Overflow Crowd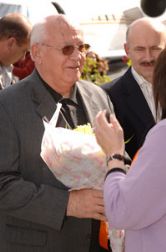 November 9, 2005, Greencastle, Ind. - "When former Soviet President Mikhail Gorbachev visited DePauw University in Greencastle, Ind., on Oct. 27, he also encountered the creator of the 'world's fastest lawn mower,'" begins a story in Lawn & Landscape magazine. Gorbachev's private plane landed at the Greencastle airport, where he was greeted by DePauw faculty and students. He also met "Dixie Chopper owner and president Art Evans when he landed in advance of his historic speech at DePauw."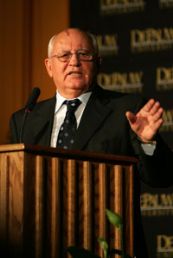 The article adds, "Dixie Chopper Air operates the local airport and has a 12-room hotel and business center on site. Gorbachev used the Dixie Chopper facilities to relax and freshen up prior to his address to a capacity crowd of 3,000 at DePauw that afternoon... Gorbachev told the DePauw crowd that the challenges of the future are security, poverty, and the 'global environmental crisis.'" It includes a photo of Gorbachev at the airport.
Access the story online by clicking here. Read more about President Gorbachev's Timothy and Sharon Ubben Lecture at DePauw, and access video and audio clips as well as photos from the event, here. Other media coverage of Gorbachev's DePauw appearance is documented here, and an editorial in Investor's Business Daily that mentioned the event is discussed here.
Back