Prof. Dave Berque and DePauw Technology Featured in University Business
November 10, 2005
November 10, 2005, Greencastle, Ind. - "DePauw's [Dave] Berque has spent a lot of time... coming up with ways to enable classroom education," notes University Business magazine in an article that examines "sensible strategies for weaving tablet PCs and laptops into the institutional fabric." The article notes that Dr. Berque, professor of computer science at DePauw, "is currently working with DyKnow, a company that provides classroom-teaching technology based on tablet computers. DyKnow's technology, which grew out of Berque's research, helps teachers incorporate interactive teaching into their classes."
The story by John Burton begins, "Dave Berque, a computer science professor at DePauw University in Greencastle, Ind., got an odd wake-up call years ago when he was teaching a large class at an East Coast institution. He tried to get the class involved in the lesson; he tried asking questions; he tried urging them to ask questions. For the first four weeks, no interaction from students. Then, one day in the fifth week,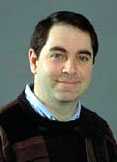 he had five or six people raise their hands. Unfortunately, it was not to ask questions, but to tell him the ceiling lights had caught fire. 'I realized how bad the situation was,' remembers Berque. 'I was in a room with 100 people, the lights were on fire, and only six people noticed it -- and I wasn't one of them!'"
The text continues, "The rest of his students didn't have a death wish; they were just too busy trying to copy down his lecture notes to take notice of the burning electrical system. Needless to say, they were also too busy to ask questions, annotate their notes, or think about what it was that they were speedily scribbling in their notebooks. That experience made Berque start to think about ways to replace frantic note taking -- which doesn't add anything to the students' education or efficiency in the classroom -- with opportunities for teacher-led interaction and collaboration. The search for an answer would lead him to the world of pen-based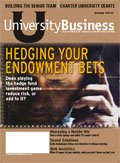 computing (that's tablet PCs to you and me). Tablet PCs allow users with electronic 'pens' to draw on them, annotate electronic documents, and even just take notes in class. Tablets are becoming a popular campus tool and, in some cases, even becoming a student's primary computer. Laptops, too, are growing in popularity. For students and faculty today, it's all about being well connected, both in class and while on the go."
Read the complete text, which includes a photo of DePauw students in the classroom, at the magazine's Web site.
Dave Berque, DePauw and DyKnow are also featured in the November issue of Campus Technology magazine. Learn more in this previous story.
See a video featuring Dr. Berque here:

[Download Video: "Dave Berque - 1997 U.S. Professor of the Year" - 7427kb].
Source: University Business
Back