Indianapolis Star Monon Bell Preview Profiles Two Tiger Seniors
November 11, 2005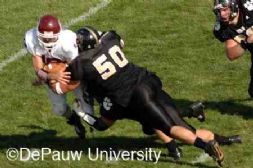 November 11, 2005, Greencastle, Ind. - "Jaime Waymouth and Joseph DiSalvo left Bishop Chatard High School [in Indianapolis] after what felt like the ultimate football experience," begins an article in this morning's Indianapolis Star. "The linemen had rings from two Class 3A state championship teams. They enrolled at DePauw for the university's academic reputation. They will graduate after enriching DePauw's football tradition." (photo at left shows DiSalvo making a stop)
David Woods' story, headlined "DePauw duo accustomed to winning at all levels," notes, "The Tigers (7-1) could cap a great season Saturday when they meet Wabash (9-0) for the 112th time. DePauw is playing not only for the Monon Bell, but for
an at-large spot in the NCAA Division III playoffs. Wabash, by winning the North Coast Athletic Conference, is already in the playoffs... DePauw can't be the Southern Collegiate Athletic Conference's playoff representative unless Trinity is upset by Millsaps. DePauw's scheduled game at Trinity, ranked No. 6 in the nation, was canceled because of a hurricane, and Trinity stands to be the champion because of a better overall record (8-0). So the importance of this Monon Bell game can't be overstated. Waymouth and DiSalvo have no post-college football ambitions, and they don't want this game to be their last. 'This year, it's just huge,' DiSalvo said. 'It means more than just the bell in a lot of ways.'"
The story points out, "DePauw has never qualified for the playoffs. At Chatard, championships were customary. Waymouth, a 6-4, 285-pound offensive tackle, and DiSalvo, a 6-2, 260-pound defensive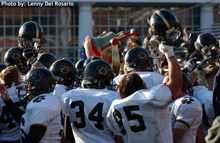 tackle, have been teammates for eight years. DePauw coach Tim Rogers calls them quiet giants. 'They're really selfless,' Rogers said. 'They're not the least bit pretentious.'"
Waymouth tells the Star, "I came here thinking that I would never be able to make the friends and relationships that I did in high school. We're just surrounded by great people." DiSalvo adds, "I think we've become really close the past 31/2 years. And I think
it's starting to show. We all immediately seemed to have all the same goals in mind."
Access the complete article at the newspaper's Web site. 
Tomorrow's game, which is sold out, begins at 1:07 p.m. at DePauw's Blackstock Stadium. Learn more about the 112th Monon Bell Classic and the national telecast on DirecTV, by clicking here.
Back