Game Day is Here!: 112th Monon Bell Classic Kicks Off at 1:07 p.m.
November 12, 2005
Watch Live Video Webcast; Listen Live via WGRE Radio; Alumni Telecast Party Information; Pre-Order Your Monon Bell DVD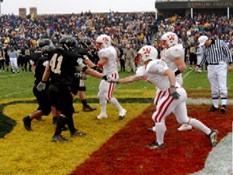 November 12, 2005, Greencastle, Ind. - "For the fourth time in 112 meetings, the two teams collectively have one defeat or less," notes today's Indianapolis Star in a game day look at the Monon Bell Classic. "The series is tied at 51-51-9" as DePauw University and Wabash College prepare to renew their annual rivalry at 1:07 p.m. today at Blackstock Stadium.

[Download Video: "2004 Monon Memory" 7774KB]
Tickets, per tradition, were quick to sell out, but the game will be carried live on DirecTV Channel 321 (LeSEA Network) and on WHMB (Channel 40) in Indianapolis. Rob Blackman will provide play-by-play and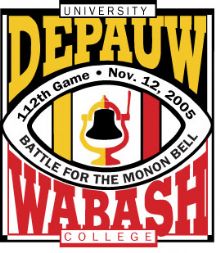 Jim Barbar will serve as host and sideline reporter. Color commentary will come from DePauw's all-time leader in football victories, retired coach Nick Mourouzis, and Joe Emmick of Wabash.

[Download Video: "See The Ballad of the Monon Bell" 9346KB]

[Download Audio: "Hear The Ballad of the Monon Bell" 2900KB] The Star story notes, "Wabash (9-0) is ranked 16th in NCAA Division III and has clinched a berth in the playoffs by winning the North Coast Athletic Conference. DePauw (7-1) is seeking an at-large berth for its first trip to the playoffs... Wabash (8.9) and DePauw (12.1) are third and ninth nationally, respectively, in points allowed. DePauw running back Jeremiah Marks has rushed for 850 yards and is fifth in the nation in scoring with 16 touchdowns."
Read the complete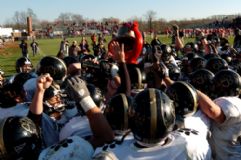 story here. An article in yesterday's newspaper profiled DePauw seniors Jaime Waymouth and Joseph DiSalvo. Access it here. Other articles on the 112th Monon Bell Classic, published in the last 24 hours, can be found here, here, here, here, and here. Extensive game notes can be found here.
Learn more about today's game, the national telecast on DirecTV, and alumni parties being held in 52 cities by clicking here. Check DePauw.edu for complete coverage of the Monon Bell Classic, including video highlights.
Back