Tigers drop Monon thriller, 17-14
November 12, 2005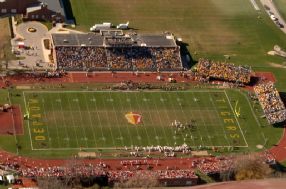 November 12, 2005, Greencastle, Ind. - In a battle of two outstanding defenses, visiting Wabash used a drive that consumed nearly half of the third quarter to take a 10-7 lead and then added a fourth-quarter score on the way to a 17-14 Monon Bell win in front of 8,000 on an unseasonably warm and windy day at Blackstock Stadium.
Wabash, with the win, took a 52-51-9 advantage in the series which dates back to 1890 and closed DePauw's lead in Monon Bell games to 35-33-6. The Tigers closed the regular season at 7-2, while the Little Giants improved to 10-0.
Chris Ogden's 5-yard option run on fourth-and-goal with 3:11 left in the third put the Little Giants ahead to stay at 10-7 and capped a 14-play, 71-yard drive that took 7:22. Wabash kept the drive alive on a fourth-and-nine from the DePauw 29 when Russ Harbaugh teamed with Ray Green for a 13-yard gain.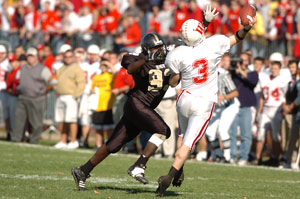 Wabash's Jared Lange blocked a DePauw punt with 10:21 left in the game and the Little Giants took over at their own 38. On the fifth play of the drive, Wabash converted a third down as Harbaugh connected with Brandon Roop on an 8-yard pass before Kyle Piazza hauled in a pass from Harbaugh and tiptoed along the sideline for a 37-yard score that made it 17-7 with 7:10 remaining.
The Tigers took over on their own 34 and Ross Wiethoff completed three of five passes to move DePauw to the Wabash 38. On fourth-and-eight Chris Gines caught a 13-yard pass from Wiethoff to sustain the drive. Two plays later, Wiethoff found Chase Jonason in the end zone for a 21-yard score to close the margin to 17-14 with 5:14 remaining.
The Little Giants converted a third down to cross midfield on their next series, but were forced to punt and pinned the Tigers at the 9 with just 1:55 left. Wiethoff directed the Tigers into Wabash territory, but Billy King broke up a pass on first down and Frank Knez sacked Wiethoff for a 9-yard loss on the next play. Following a DePauw illegal procedure penalty, King again broke up a Wiethoff pass before the fourth down pass fell incomplete. The Little Giants were then able to run out the clock and preserve the victory.
Wabash took a 3-0 lead in the first on Chad Finley's 29-yard field goal with 6:12 remaining. The Tigers were forced to punt on their next series, but Jon Williams' punt touched a Little Giant and Dan Toleikis recovered at the DePauw 47. DePauw drove to the Wabash 18 before Tyler Mallory's 35-yard field goal sailed to the left of the uprights.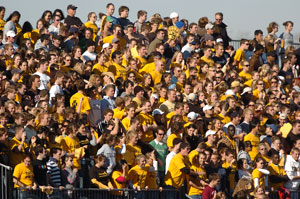 Late in the second DePauw took over on the Wabash 34 following a short Little Giant punt. Nine plays later Jeremiah Marks punched it in from the 1 on fourth-and-goal to give the Tigers a 7-3 lead with 1:38 left in the half. With the score, Marks tied the DePauw single-season record with his 17th touchdown. The DePauw lead also marked the first time all season that Wabash trailed at the intermission.
"It's just a game of inches and in a game like this so many of those little things matter," DePauw head coach Tim Rogers said. "We gave them everything we had and I'm proud of our kids."
DePauw totaled 251 yards of offense with just 77 on the ground. Wiethoff led DePauw with 38 yards on 11 carries, while Marks totaled just 31 on 19 tries. Wiethoff completed 11-of-24 passes for 174 yards with Brian Culp catching five of those for 100 yards.
The Little Giants finished with 257 yards and were held to just 178 through the air after entering the game ranked ninth in Division III with over 330 yards per game. Brandon Roop totaled 52 yards on 14 tries with Ogden adding 45 on 12 carries. Harbaugh completed 15-of-27 and established a Wabash single-season passing yardage record. Green and Eric Summers each caught four passes to lead the Little Giants.
Greg Sylvester and Andy Brandstatter each totaled nine tackles for DePauw with Eric Lewis, Dustin Hertel and Darron Lasley each finishing with eight. Hertel recorded a game-high three tackles for loss including a pair of sacks along with two hurries. DePauw sacked Harbaugh five times on the afternoon.
Adrian Pynenberg paced Wabash with 11 tackles including 2.5 tackles for loss. Tim Parker added six and King finished with five.
The teams combined to convert 6-of-7 fourth down plays, but DePauw failed to convert any of their 14 third down chances with the Little Giants going 5-for-15.
The Wabash win marked the first time since 1984 that the Monon Bell exchanged hands on consecutive years and was the third straight win by a visiting team. The contest also was the ninth in the last 16 Bell games decided by a touchdown or less.
Back