Conviction in 1964 Civil Rights Killings Creates "Discussion in This Country That Has to be Had"
November 14, 2005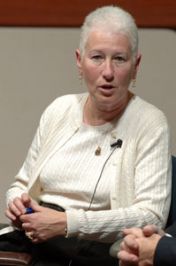 November 14, 2005, Greencastle, Ind. -

[Download Audio: "The Edgar Ray Killen Trial" - 177kb] "If the point of the trial was to find one crazy old man guilty then it probably was a trial without a point," says civil rights activist and attorney Rita Bender, the widow of slain civil rights worker Michael Schwerner, one of three men Edgar Ray Killen was found guilty of killing 41 years after the fact.

[Download Audio: "Restorative Justice" - 320kb] "If the point is to open up that window and to talk about government run amok, then we start getting to -- you have to have truth if you're going to have reconciliation. That's what I think restorative justice is all about.
Over the summer, the 80-year-old Killen was convicted of manslaughter in the deaths of Schwerner, James Chaney, and Andrew Goodman in a case that inspired the film Mississippi Burning. This afternoon, Bender and award-winning Jackson Clarion-Ledger reporter Jerry Mitchell discussed "Murder in Mississippi: Justice Delayed?" in a Gertrude and G.D. Crain Jr. Lecture at DePauw. The session was moderated by Ken Bode, Eugene S. Pulliam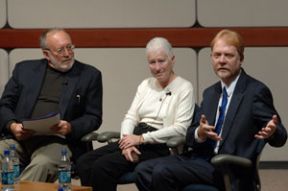 Distinguished Professor of Journalism at DePauw, who also covered the trial.
Mitchell and Bender described how police cooperated with Killen and the Ku Klux Klan to kill the three men, then looked the other way after the fact. In 1967, 18 people were charged with violating the federal civil rights act in the murders of the three men: seven were convicted, eight acquitted, and the trials of Killen and two others ended in hung juries.
Mitchell's writings on the case, and Bender's relentless push for justice, led to the investigation being reopened in 1999. While some Mississippians questioned the value of sending a frail 80-year-old man to jail for killings that took place more than four decades ago, Mitchell told the DePauw audience,

[Download Audio: "The Right Thing to Do" - 539kb] "Murder violates our conscience, really, in the most basic way... There's no such thing as giving somebody a free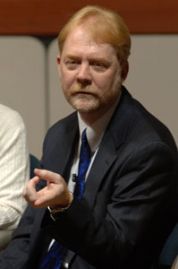 pass for murder. It's just the way I feel about it in a very basic sense." The reporter recalled, "Bobby Delaughter, who was the prosecutor in the Medger Evers case, said in his closing arguments, 'Is it ever too late to do the right thing?' And I think the answer to that is 'no.' And it doesn't mean it's entirely curative -- there's a lot of pain involved with these cases, families having to relive these things -- but I think in the end it's the right thing to do."
Bender testified during the trial. She says local residents who were happy to see the case finally brought to justice fell into two camps. One, she calls the 'Chamber of Commerce' group.

[Download Audio: "Reaction to the Trial" - 501kb] "They have the notion that it's not good for business, it's not good for commerce to have this black eye and that doing this trial was a way to say, 'See, it's all done.' But I think there are a lot of people -- both black and white -- who sat through this trial day after day after day, for whom it was... they were standing witness. This was something that they felt as a grievous wrong in their own lives, even if they were not personally affected by it."
The deaths of Schwerner, Chaney and Goodman received publicity because two of the men were white, the two guests stated. Countless other cases involving violence and intimidation during
"Freedom Summer" of 1964 were never properly investigated, in fact, some victims have still not been identified.

[Download Audio: "Terrorism" - 555kb] "This was definitely a summer of terror in Mississippi," says Jerry Mitchell, who will soon receive the John Chancellor Award. "It's kind of interesting -- you know, we use the word 'terrorist' to apply to what's going on in Iraq and things like that, but we never seem to apply the word to people who commit violence here in the United States. But there's not a better word for it, and the Klan, and the people who are connected with the Klan, and the people who allowed the Klan to operate -- including the state -- were part of that, and terrorist is the right word for them, too."

[Download Audio: "A Vital Discussion" - 643kb] "Mississippi as a state, as a governmental entity, has to talk about the responsibility it has for the people who've lost their jobs, who were thrown off their land; people were beaten... it's just an endless litany of horrors, and this is just one little piece of it. But because this piece got so much attention at the time of the murders, and because I knew it was going to get this much attention with the trial, it seemed to me that it was one more way to have the discussion in this country that has to be had."
Endowed by Rance Crain, president of Crain Communications and a member of DePauw's Class of 1960, The Gertrude and G.D. Crain Jr. Lecture Series honors Mr. Crain's parents. Previous Crain Lecturers have included Adam Clymer, retired chief Washington correspondent for the New York Times;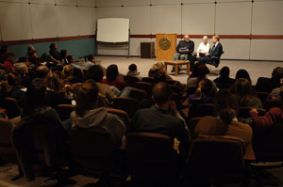 Samantha Power, author of A Problem from Hell: America and the Age of Genocide; Emily Wax, Africa Bureau Chief of the Washington Post, and her husband, Raymond Thibodeaux, who also covers the region for Cox News, Voice of America and the Boston Globe; Father Richard P. McBrien, Crowley-O'Brien Professor of Theology at the University of Notre Dame and a consultant to ABC News for papal events; political analyst Charlie Cook; FactCheck.org director Brooks Jackson; veteran political columnist Jack Germond; military sociologist Charles Moskos; historian Douglas Brinkley, author of Tour of Duty: John Kerry and the Vietnam War; David A. Keene, chairman of the American Conservative Union; and Joe Trippi, who managed Howard Dean's presidential campaign.
Back