Portland's Oregonian Visits Monon Bell Telecast Party to Cover "Transcendent" Rivalry
November 15, 2005

[Download Video: "See The Ballad of the Monon Bell" 9346KB]

[Download Audio: "Hear The Ballad of the Monon Bell" 2900KB]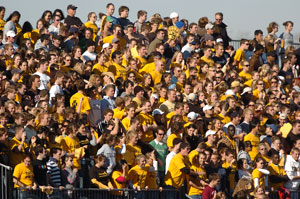 November 15, 2005, Greencastle, Ind. - "At the Monon Bell gathering in Portland, alumni from both schools met for an event so beloved it has 52 official viewing parties from Peoria, Ill., to Perugia, Italy," notes a story in today's edition of Portland's Oregonian. On Saturday, "2,200 miles from the rivalry's origins, about 40 Wabash and DePauw alumni gathered... at McFadden's Restaurant & Saloon in downtown Portland to watch the 112th Monon (MOE-non) Bell game. Although lesser known than many contests, Wabash-DePauw is just one of several out-of-state rivalries that thrive in Portland, a city filled with transplants," Rachel Bachman writes.
"It is difficult to quantify just what makes this rivalry so transcendent. The private schools' combined enrollment barely surpasses 3,000, and their football teams compete in scholarship-free Division III. Local fans find scores only in the Oregonian sports section's tiny type, if at all. But given that Wabash is a men's college and that DePauw is co-ed, there is this theory, offered by DePauw alumnus Roger Nelson: 'I think the rivalry is as intense as it is because the players at both schools both date the same women.'"
Bachman notes, "The bell was a gift in 1932 from the Monon Railroad, which served five universities in Indiana, including Wabash and DePauw. Both campuses ripple with tales of bell-nappings and protection schemes."
In fact, the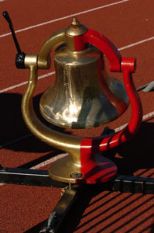 lengthy piece begins with this legendary tale: "DePauw University President William Kerstetter was so taken with the young Mexican dignitary that he pledged two full-tuition scholarships to the country and showed him the Monon Bell, trophy for the school's legendary football rivalry with Wabash College. What Kerstetter would later discover, after the bell had disappeared from its secret location, was that the Mexican dignitary actually was Jim Shanks, Wabash sophomore. 'Congratulations to Pres. Kerstetter,' read the signs that soon papered DePauw's campus, 'for winning the No-Bell prize.' After Wabash won that 1965 game to end a 10-year DePauw hold on the bell, Wabash students stormed the field in ponchos and sombreros."
Read the complete story at the Oregonian's Web site.
You'll find coverage of the 112th Monon Bell Classic, including video highlights, by clicking here; and you can order a Monon Bell DVD, currently in production, here.
Back