Kids' Science and Math Program Created by Prof. Susan Olesik '77 Spotlighted in Magazine
November 15, 2005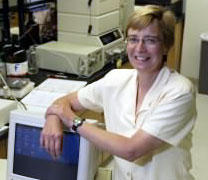 November 15, 2005, Greencastle, Ind. - The November 7 issue of
Chemical & Engineering News
includes an examination of the Wonders of Our World (WOW) science education program and its founder, Susan V. (Johanningsmeier) Olesik, professor of chemistry at Ohio State University and 1977 graduate of DePauw University. "Young students are inherent scientists," Olesik tells the magazine. "They just need experiments to do. We can move them to a deep interest in science at a young age and keep them going."
Stephen K. Ritter writes, "Science education for elementary school students is a conundrum. Most people would agree that a strong background in math and science during the K-6 years sets the stage for academic and career success. Yet many elementary schools struggle to provide an adequate learning experience in the sciences because of a lack of resources or teacher training or simply the inability to get started. The Wonders of Our World (WOW) science education program based in Columbus, Ohio, is one effort to address this problem. Created and directed by Ohio State University (OSU) analytical chemistry professor Susan V. Olesik, WOW supplements
existing science programs in elementary schools by providing training workshops for teachers on how to conduct hands-on experiments in the physical and biological sciences. The program then provides scientist volunteers to assist the teachers in carrying out the experiments with their students."
WOW volunteers, the article points out, come from Ohio State as well as employees from Columbus, Ohio-area companies. "Olesik developed the idea for WOW after she conducted some experiments with her daughter's class and realized a need for greater emphasis on science for elementary school students... Olesik approached the principal at her daughter's school and proposed to develop a program in which scientists would come into the school and interact with the teachers. The goals were to supplement the existing science curriculum, increase science materials available to schools, and increase the involvement of scientists in community projects."
WOW became reality in 1999, and "currently serves about 100 teachers and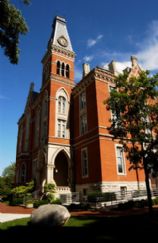 approximately 2,000 students in four elementary schools, and the program has a pool of 300 to 400 scientist volunteers. Eight schools and a total of more than 10,000 students have completed the three-year cycle and are considered alumni of the program."
Read the complete article at the magazine's Web site.
Susan Olesik received her B.A. from DePauw University in 1977 and her Ph.D. in 1982 from the University of Wisconsin-Madison. She was also a postdoctoral fellow for Milos Novotny at Indiana University from 1982-1984 and for Tomas Baer at University of North Carolina-Chapel Hill from 1984-1986. She has been a faculty member at Ohio State University since 1986. In 1987, she received the American Society for Mass Spectrometry Research Award; in 1990 she received the Eli Lilly Research Award; in 1998 she received a Commendation from NASA for work on Cassini-Huygen's Probe; and in 2000 she received the AWISCO Woman in Science Award. Learn more about the professor by clicking here.
Back