DePauw Band's Sunday Concert, Featuring Saxophone Quartet, Can Be Heard on WGRE and Online
November 16, 2005
November 16, 2005, Greencastle, Ind. - The DePauw University Band and conductor Dr. Craig Paré will present an afternoon concert on Sunday, November 20, at 3 p.m. in Kresge Auditorium. The event, which is free and open to the public, will also be broadcast live on WGRE (91.5 FM) and available online via the student radio station's streaming audio. Carla Edwards, professor of organ and Cassel Grubb University Professor of Music, will serve as the concert's narrator.
The program will include a wide variety of works for symphonic band and wind ensemble, including François Joseph Gossec's Classic Overture in C, Samuel Barber's Commando March, Dan Welcher's Symphony No. 3, Michael Daugherty's Desi, and Alfred Reed's arrangement of the traditional Greensleeves. The concert will also showcase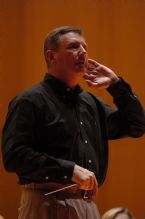 a saxophone quartet featuring University Band saxophonists Tyler Pawl, David Doud, Miles Salman, and Peter Edberg on Sammy Nestico's A Study in Contrasts.
Michael Daugherty's Desi is a tribute to Desi Arnaz, the actor who played Cuban bandleader Ricky Ricardo alongside his wife Lucille Ball in the innovative television comedy I Love Lucy. Desi's opening rhythmic motive is derived from the Conga Dance, made famous through Arnaz's singing and bongo playing during the Hollywood musicals of the 1940s. In Daugherty's piece, the bongo soloist and percussion section provide a lively counterpoint to the intricately structured canons and four-note cluster chords, creating polyrhythmic layers that intensify and build to a sizzling conclusion.
Another one of the ambitious program's highlights is Dan Welcher's Symphony No. 3 entitled "Shaker Life," which draws exclusively upon Shaker tunes for all of the work's melodies and themes. The band will be performing the symphony's first movement, "Laboring Songs," on this concert, which utilizes an enlarged percussion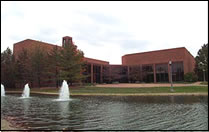 section, an "Angelic Choir" of flutes to be played offstage, and a variety of unique combinations of solo instruments and sections that are the trademark of Welcher's symphonic band scoring.
This concert, the second this year by the DePauw University Band, is part of the 2005-2006 concert season that will culminate with the ensemble's preparation, recording, and production of its sixth compact disc.
Visit the DePauw School of Music online here.
Back