Columnist Calls 112th Monon Bell Classic One of Saturday's "Best Games"
November 16, 2005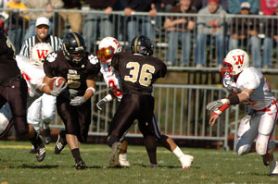 November 16, 2005, Greencastle, Ind. - "One of the best games of the day is also one of the least known," writes Mike Kiral in the
Ascension Citizen
of Gonzales, Louisiana. "Wabash has just held off DePauw on the final drive to preserve a 17-14 win." In his column, headlined "A day in the life of a college football addict," Kiral writes of how he spent Saturday on his couch watching games on television.
"I found myself with a rare Saturday off this past weekend and decided to do what any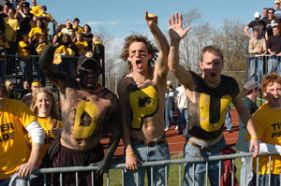 single guy would do in that situation (OK, any single without the prospect for a date that evening) -- I grabbed the remote control, slapped a few long-lasting batteries in it and sat back to watch a day of college football," the column begins.
Read the complete text at the newspaper's Web site. A story in yesterday's Portland's Oregonian. Ondescribed the scene at that city's Monon Bell telecast party. 
You'll find coverage of the 112th Monon Bell Classic, including video highlights, by clicking here; and you can order a Monon Bell DVD, currently in production, here.
Back