Entrepreneur Dennis Kelley '72 Announces Major Agreements with China as He Discusses International Careers and His DePauw Experiences
November 17, 2005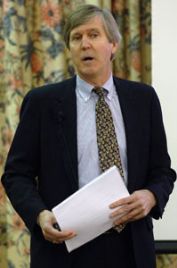 November 17, 2005, Greencastle, Ind. - Indianapolis-based Pacific World Trade, Inc. is the first American company to agree to a commercial distribution contract with China Atomic Energy (CAE) and will publish a paper with CAE that will be presented worldwide at nuclear energy conferences next year, another first.  The announcements were made today by Dennis B. Kelley, president and CEO of Pacific World Trade, Inc. and 1972 of DePauw, as he addressed students in the University's Management Fellows Program.
With offices in Indianapolis and Beijing, Pacific World Trade, Inc. has developed state-of-the-art nuclear waste treatment technologies, working primarily in nuclear weapons and nuclear power sectors worldwide. The company's product can turn hazardous and radioactive liquids into solid material that can be more safely disposed of. 
[Download Audio: "Dennis Kelley on Agreement with CAE" - 318kb] "In April, I conducted testing at (CAE's) site, and they're so pleased with the results of our work that we're signing a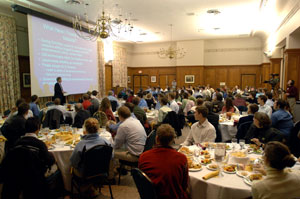 contract with China Atomic Energy to distribute our products and technology throughout the Chinese nuclear community," Kelley told the crowd that gathered for his lunch hour Robert C. McDermond Lecture in the ballroom of the Memorial Student Union Building.
[Download Audio: "Breaking Down Barriers" - 435kb] "As you can imagine, American companies penetrating the China nuclear sector is quite new," Kelley explained.  "In this particular case we've been enemies for a long time, but now the government -- U.S. Department of Energy -- and the Chinese are beginning to open up a bit knowing that there needs to be cooperation, and we're sort of on the front end of that effort."
Kelley points out,
[Download Audio: "A Growing Threat" - 650kb] "In our business, we're finding that the liquid contamination -- of which there is quite a bit of worldwide -- is just stacking up.  It's being put in these drums off to the side in warehouses."  He adds that "the health and safety of people and the environment.  We're finding, in this country, that nuclear waste at [the] Hanford, Washington site, for
example, is already leaking out of tanks underground into the Columbia River.  And this is very common [and] much worse in other countries than in the U.S.  But this type of contamination needs to be cleaned up and taken care of."
Besides being an environmental hazard, liquid contaminants can be used by terrorists to create so-called "dirty bombs."
[Download Audio: "Kelley on 'Dirty Bombs'" - 797kb] "So if we're able to put this liquid into a solid form, we reduce the risk of a catastrophic terrorist attack," Kelley says.
The president of Pacific World Trade, since it was co-founded by Cummins in 1986, Kelley also serves as director of the State of Indiana's China office, a post he's held since 1988. From 1983-4, Kelley served as director of international strategic planning for Cummins Engine and was director of China operations for Cummins from 1979–83. Kelley also served in the capacity of regional manager for the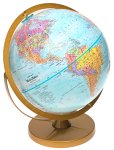 Middle East at Cummins, based in Tehran, Iran (1975-77), and marketing administrator for Europe, the Middle East, and Africa (1974-5).
As a DePauw student, Dennis Kelley spent a year studying abroad, in Vienna and Budapest one semester in 1970, and in Freiburg and London for a semester the following year. In his presentation, "The DePauw International Study Experience: How It Led to a Life-Long Career," Kelley cited those experiences as ones that shaped his life and career.
[Download Audio: "Studying Abroad" - 228kb] "I returned to DePauw with an intense interest in Eastern Europe, East European politics and economics, and in Russia," Kelley recalls. 
[Download Audio: "The DePauw Overseas Experience" - 540kb] "The overseas experience gave me some direction for a career, which was very important to me.  The experience exposed me to new culture, history, and different political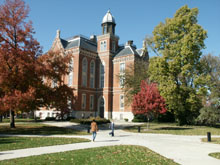 and economic systems, it opened my eyes to the rest of the world. It also gave me a life away from campus, which was very important, and it forced me to be on my own and become independent.  It accelerated my personal development," Kelley asserts.  "There's no question in my mind that the experience was a major force in quicker maturity in my life."
[Download Audio: "Winter Term Pays Off" - 154kb] "When I did my Winter Term project on Romanian foreign policy, never did I think it would come back to help me in my work.  But it has," Kelley says, noting that his company is currently working with Romania's nuclear sector on a project. 
[Download Audio: "A Leg Up in Romania" - 378kb] "I'll be going over there for several weeks in February to help them clean up their waste... The work that I did for Dr. Raymond [O. Ralph Raymond, professor of political science, who sponsored Kelley's project and attended today's event] during the Winter Term in January of 1972 has actually helped me work in this country.  I've been over there three times already.  I understand a little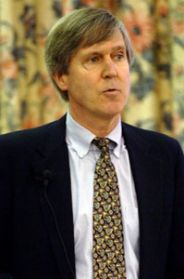 bit of their culture; I understand their history as a result of the work I did on that one paper." Kelley also cited Amir Rafat, professor emeritus of political science, as a major influence in his life.
He told the Management Fellows that studying abroad as a college student, as well as learning one or more foreign languages, is key if they have interest in international careers. 
Dennis Kelley also stressed the importance of ethics to his young audience, noting that many countries have different customs and laws, and that many allow companies to offer, and vendors to accept, bribes.
[Download Audio: "Ethical Business Practices" - 819kb] "And it's very important for us to know who we are, and how we're going to behave, in certain conditions." 
Visit the Management Fellows Web site by clicking here.
On September 16, DePauw announced plans to create the Janet Prindle Institute for Ethics.  Read more in this previous story.
Back