"Teaching and Learning are Transformed" by DePauw's 361°, Writes Prof. Dennis Trinkle '91
November 19, 2005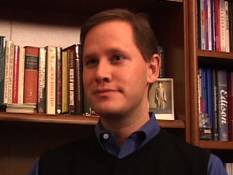 November 19, 2005, Greencastle, Ind. - "When transparent, well-supported technology focused on learning aligns and integrates with an institution's mission, teaching and learning are transformed," writes Dennis A. Trinkle in the new issue of EDUCAUSE Quarterly. Trinkle, associate vice president for academic affairs and chief information officer at DePauw, provides an overview of the University's award-winning 361° program. He asserts, "DePauw's successes show that failures are not inevitable and that investments need not be wasted. Success is a matter of approach, priorities, and process, effectively applied."
Dr. Trinkle, a 1991 graduate of DePauw, notes that, "Over the past decade, many colleges and universities have invested heavily in information technology in the belief that it would enhance learning and enrich the student experience. Several recent high-profile reports and articles, however, argue that most investments in technology have not paid off." Trinkle believes part of the blame for "this pattern of failed investments is the absence of positive role models and clear best practices. Amidst the many stories about promising opportunities or the
failures of promise, few concrete models have been offered for how technology can positively enhance teaching and learning. This absence of highly visible successes and best practices increases the sense of frustration and concern and leaves institutions without a lodestar."
He continues, "Some institutions, however, have approached technology carefully and strategically and are successfully transforming teaching and learning. DePauw University in Greencastle, Indiana, offers one story of success. Several years ago, DePauw faculty, students, and staff recognized the potential of technology to enrich learning and grasped that DePauw's historic mission as a liberal arts college required graduating students prepared to succeed and thrive in a broadly digital culture. Consequently, DePauw established the goal of becoming a national model for using technology to enhance liberal arts education and to enrich the college experience."
EDUCAUSE is a non-profit association whose mission is to advance higher education by promoting the intelligent use of information technology. Its current membership consists of more than 2,000 colleges, universities, and educational
organizations, including 200 corporations, with 15,000 active members.
Read the complete essay, entitled "The 361° Model for Transforming Teaching and Learning with Technology," by clicking here.
Visit 361° online here.
DePauw is among the "Top 50 Most Unwired College Campuses," according to a survey of all institutions of higher learning -- big and small -- sponsored by Intel Corporation. DePauw is ranked #30 -- the highest of any liberal arts college in America -- in the report, which appeared in the October 17 edition of U.S. News & World Report. More than 1,000 campuses were included; only 50 made the final list. Survey findings are based on the percentage of campus that is covered by wireless technology, the number of undergraduate students and the computer to student ratio for each school.
Back