DePauw Team Wins Regional 'Ethics Bowl'
November 18, 2005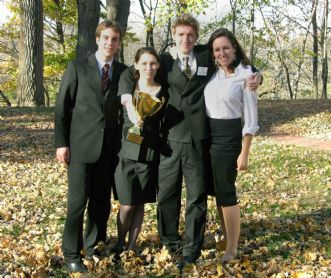 November 18, 2005, Greencastle, Ind. - A team from DePauw University won the the seventh annual Indiana Regional Ethics Bowl, held last weekend on the campus of Marian College in Indianapolis. A second DePauw team finished tenth in the event, which featured 20 squads from 16 different colleges and universities in five states. DePauw's "team two" -- composed of Nick Casalbore, Jaclyn Harr, Mike Schmidt, and Shelby Sleight (seen l-r in photo) -- won the event and earned the right to compete in the 12th annual National Ethics Bowl which will take place in Jacksonville, Florida in March.
DePauw's "team one" was composed of Amanda Arnold, Phil Exline, Alex Nelson and Dan Story.
"Both teams put in countless hours of preparation and performed at a very high level," says Marcia McKelligan, professor of philosophy and co-coach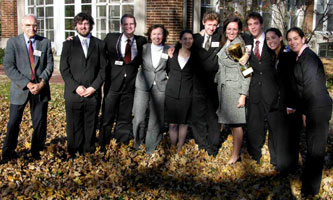 (along with professor of philosophy Bob Newton) of the Ethics Bowl teams. "Team II's victory is a credit to both. I think we've got a real chance to make the finals at the nationals, and to win the whole thing."
Dr. Newton adds, "Our teams were well prepared first by meeting together with us as coaches to critique the cases. Then they worked on their own and competed with each other following the format of the matches. Therefore they were familiar with the debating procedures and showed only the stress of anticipation."
When he accompanied one of the DePauw teams to its first match, Newton says, he was pleasantly surprised. "When coming into the room, all the opposing team members (Wright State) were already there, having left the orientation meeting a few minutes early. The opposing team members were busy writing down (on the blank paper provided them) the debating points for which each of them was responsible." Professor Newton points out that contestants were not
allowed to bring previously written notes into the debate forum, just as students can't bring notes into classroom examinations. "We hadn't coached our teams to do this, but simply to be well prepared. Immediately, the DePauw team saw what was happening and without my direction or even conferring among themselves, began to write down the main debating points they were responsible for. I was proud of their perception and immediate response. By the way, the DePauw team won that match!"
Results of the Ethics Bowl are available on Marian College's Web site.
On September 16, DePauw announced plans to create the Janet Prindle Institute for Ethics. Read more in this previous story.
Back