Prof. Dave Berque Writes of the Power of the "Pen" in Technology Journal
November 22, 2005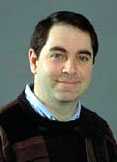 November 22, 2005, Greencastle, Ind. - Writing in the November issue of T.H.E. Journal, Dave Berque asserts, "the future of pen-based computing looks bright." Berque, professor of computer science at DePauw University, continues, "Clearly, pen-based hardware and supporting software are teaming to provide stimulating learning environments for students. The future has arrived, and it is spelled P-E-N."
Dr. Berque's essay, titled "Is the Pen Mightier Than the Mouse?," recalls the 1991 prediction by Microsoft's Greg Slyngstad, who stated: "The impact of pens on computing will be far greater than the mouse." The
professor notes, "Although it has taken nearly 15 years for Slyngstad's vision to materialize, the future is arriving. More importantly, evidence is in that the impact of pen computing on K- 12 education will be great. Simply put, education provides a natural home for pen computing. Many subject areas rely on freehand input to communicate ideas that are difficult to express via mouse and keyboard. Whether used to explore mathematics (equations), economics (supply-demand curves), physics (inclined planes), writing (editing marks), history (map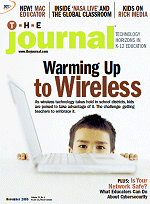 annotation), Japanese language (kanji character construction), or chemistry (molecular structures), the power of the pen is clear."
Access the article at the magazine's Web site.
Dave Berque's research led to technology that utilizes tablet computers and electronic pens that is now used in classrooms around the nation. Berque and DyKnow, which developed the learning tools, are profiled in this month's University Business and Campus Technology magazines. Also, Leading and Learning with Technology, a publication of the International Society for Technology in Education, has published a review of the DyKnow system that mentions DePauw. Access it here.
See a video featuring Dr. Berque here:

[Download Video: "Dave Berque - 1997 U.S. Professor of the Year" - 7427kb].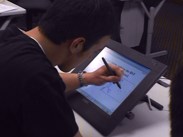 DePauw is among the "Top 50 Most Unwired College Campuses," according to a survey of all institutions of higher learning -- big and small -- sponsored by Intel Corporation. DePauw is ranked #30 -- the highest of any liberal arts college in America -- in the report, which appeared in the October 17 edition of U.S. News & World Report. More than 1,000 campuses were included; only 50 made the final list. Survey findings are based on the percentage of campus that is covered by wireless technology, the number of undergraduate students and the computer to student ratio for each school.
Back