D. Scott Looney '86 to Head Hawken School
November 20, 2005
November 20, 2005, Greencastle, Ind. - D. Scott Looney, assistant director of Cranbrook Schools in Bloomfield Hills, Michigan and a 1986 graduate of DePauw University, has been named Head of School of Hawken School in Ohio. Founded in 1915, Hawken School is an independent, college preparatory day school serving approximately 950 students in preschool through grade 12. Hawken will assume his new role effective July 1, 2006.
"My family and I are honored to be welcomed into the exceptional community that is Hawken School," says Looney, who becomes Hawken's 10th Head in the school's 91-year history. "I am thrilled by the opportunity to work with faculty, staff, students, parents and alumni to ensure that Hawken sets the standard for independent school education, sustaining and enhancing Hawken's position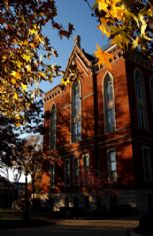 as a leader in Cleveland and throughout the nation." Looney's wife, Leslie M. Short, is a 1988 graduate of DePauw.
"Scott Looney is clearly a rising star among leaders of the independent school world -- and a perfect match for such a distinguished school as Hawken. Scott will bring energy, vision, and a proven," says Pat Bassett, president of the National Association of Independent Schools. "Scott will bring energy, vision, and a proven track record for introducing leading edge ideas into the mix required for greatness: an inclination toward innovation balanced with a respect for tradition. He is much-respected and admired by the faculty and students at the fine school he leaves, and will surely be so at Hawken, as well. If independent schools are truly to be 'built to last,' they will have to have leaders who inspire, reassure, and create. No one does those three things better than Scott."
Read more by clicking here.
Back