Bennett earns all-America honors at Division III Championships
November 19, 2005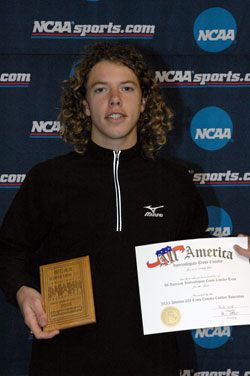 November 19, 2005, Delaware, Ohio - DePauw junior Chad Bennett earned all-America honors at the NCAA Division III Men's Cross Country Championships with a 24th place finish.
Bennett covered the course in a time of 26:15.1. Neal Holtschulte of Williams won in 25:13.8.
Bennett earlier finished second at the Southern Collegiate Athletic Conference Championships and earned a trip to the Division III Championships with a 10th place showing at last Saturday's Great Lakes Regional.
                                                                                 Page 1
                          2005 NCAA DIVISION III 
                    NATIONAL CROSS COUNTRY CHAMPIONSHIP
                    HOSTED BY OHIO WESLEYAN UNIVERSITY
                              DELAWARE, OHIO
                        SATURDAY, NOVEMBER 19, 2005
----------------------------------------------------------------------------
                         MEN'S INDIVIDUAL RESULTS
----------------------------------------------------------------------------

Place TmPl No.  Name                  Cl School                    1 Mi  3 Mi  Timemen 
===== ==== ==== ===================== == ========================= ===== ===== ======= 
    1        46 Neal Holtschulte      Sr Williams College           4:59 15:30 25:13.8 
    2        45 Macharia Yuot         Jr Widener University         4:58 15:31 25:26.5 
    3    1  121 Tim Finnegan          Jr Calvin College             4:59 15:29 25:28.9 
    4        48 Tyler Sigl            So Wisconsin Platteville      4:54 15:21 25:29.4 
    5    2  145 Dana Irrer            Sr Carnegie Mellon            5:02 15:31 25:39.9 
    6        32 Mike Sawicki          Sr Otterbein College          4:58 15:30 25:42.6 
    7    3  209 Levi Ashley           Sr Nebraska Wesleyan          5:07 15:35 25:44.0 
    8    4  239 Crosby Freeman        Sr Pomona-Pitzer              4:56 15:28 25:44.2 
    9        28 Hany Abdallah         So New York University        5:00 15:31 25:45.2 
   10    5  131 Stephen Harris        Sr Carleton College           5:04 15:38 25:52.0 
   11        13 Charles Joslyn        Sr Cortland S U N Y           5:01 15:35 25:52.5 
   12    6  279 Owen Kiely            Sr Wesleyan Univ (Ct)         4:59 15:31 25:54.3 
   13         5 Dan Johnson           Sr Bates College              4:58 15:36 25:55.0 
   14    7  189 Grant Scott           Sr Haverford College          5:01 15:37 25:55.8 
   15    8  303 Boomer Creger         Sr Wisconsin La Crosse        5:00 15:36 25:56.3 
   16    9  112 Stephen Cohen         Jr Anderson (Indiana)         4:59 15:36 26:00.1 
   17   10  307 Nate Hoffman          Sr Wisconsin La Crosse        5:00 15:41 26:03.9 
   18        34 Matt Deshane          Jr Plattsburgh S U N Y        5:00 15:35 26:04.4 
   19         4 Tomas Morrissey       So Amherst College            5:04 15:48 26:07.7 
   20   11  212 Craig Dye             Sr Nebraska Wesleyan          5:15 15:49 26:08.6 
   21   12  273 Keith Solverson       Sr Wartburg College           5:01 15:45 26:12.1 
   22   13  260 Joshua Kennedy        Jr Tufts University           5:02 15:49 26:13.0 
   23   14  177 Jeff Metzdorff        Sr Hamline University         5:11 15:59 26:14.9 
   24        14 Chad Bennett          Jr DePauw University          5:04 15:45 26:15.1 
   25   15  318 Cal Kromm             Sr Wisconsin Oshkosh          5:07 15:54 26:15.2 
   26   16  314 Nick Boehlke          Sr Wisconsin Oshkosh               15:47 26:15.4 
   27        11 Julian Boggs          So Colorado College           5:19 16:04 26:15.6 
   28   17  228 Chris Bosworth        Sr North Central College      5:02 15:46 26:15.9 
   29   18  187 Ian Ramsey-North      Jr Haverford College          4:59 15:33 26:15.9 
   30        47 Stephen Wills         Jr Williams College           5:03 15:48 26:18.0 
   31        21 Cyril Pinchak         Sr John Carroll               5:00 15:44 26:18.4 
   32        15 Matt Liebal           Jr Dickinson College          5:10 15:53 26:19.3 
   33        50 Gary Garcia           Sr Wisconsin Whitewater       5:03 15:37 26:20.2 
   34   19  120 Jed Christiansen      Fr Calvin College             5:07 16:06 26:20.7 
   35   20  125 Harrison Jorritsma    Jr Calvin College             5:00 15:42 26:20.7 
   36   21  309 Kevin Oelstrom        Jr Wisconsin La Crosse        5:07 16:01 26:30.6 
   37   22  276 Wes Fuhrman           Sr Wesleyan Univ (Ct)         4:59 15:38 26:30.9 
   38        31 Michael Cauley        Sr Otterbein College          5:12 15:58 26:32.1 
   39   23  210 Chris Dunker          So Nebraska Wesleyan          5:16 16:01 26:32.8 
   40   24  193 Ryan Gough            Sr Keene State College        5:03 15:49 26:37.0 
   41   25  251 Tim Smit              Sr Saint John's (Minn)        5:15 16:05 26:37.9 
   42   26  184 Donald Letts          So Haverford College          5:02 15:45 26:38.6 
   43        37 Mark Stevens          So Univ of Rochester          5:02 15:58 26:41.4 
   44         9 Dan Hayman            Jr ClaremontMuddScripps       5:05 15:56 26:42.1 
   45        43 Doug Blackburn        Sr Whitworth College          5:05 15:51 26:42.3 
   46   27  305 John Heitzman         Jr Wisconsin La Crosse        5:07 16:01 26:42.4 
   47        26 James Butcher         So Middlebury College         5:08 15:58 26:44.0 
   48         6 David Borner          So Bethel University (Mn      4:59 15:57 26:44.4 
   49   28  308 Scott Mueller         So Wisconsin La Crosse        5:06 16:06 26:45.5 
   50   29  142 Nick End              Sr Carnegie Mellon            5:05 15:47 26:46.5 
   51        38 Sam Hauck             Sr St. Olaf College           5:20 16:12 26:46.8 
   52   30  286 Matt Field            Fr Wheaton College (Ill)      5:01 15:51 26:48.2 
   53   31  271 Tim Mckenna           Fr Wartburg College           5:07 16:10 26:48.7 
   54   32  190 Zachary Vaslow        Jr Haverford College          5:05 15:58 26:48.7 
   55   33  122 Jon Gries             So Calvin College             5:07 16:06 26:49.2 
   56   34  161 Teage O'connor        Sr University of Chicago      5:10 16:07 26:50.2 
   57   35  188 Brian Scott           Sr Haverford College          5:08 16:02 26:50.7 
   58   36  113 Sean Hudson           So Anderson (Indiana)         5:11 16:10 26:51.0 
   59   37  159 Pat Hogan             Sr University of Chicago           16:16 26:51.4 
   60   38  208 Jeremy Velliquette    Jr Mount Union College        5:03 16:12 26:51.9 
   61   39  291 Brandon Mull          Fr Wheaton College (Ill)           16:16 26:52.5 
   62        42 Nathan Johnson        Sr Washington and Lee         5:23 16:23 26:53.0 
   63        33 Brad Ruffo            Jr Penn State Erie            5:11 16:16 26:53.2 
   64        10 Mike Flint            Jr Coast Guard Academy        5:09 16:00 26:53.9 
   65   40  175 Tony Klappa           Jr Hamline University         5:21 16:20 26:54.8 
   66   41  226 Jeffrey Zodda         Sr College of New Jersey      5:10 16:09 26:55.0 
   67        40 Brennan Bonner        Sr Washington (Missouri)           16:02 26:55.1 
   68        16 Tom Rhodes            Sr Dickinson College          5:10 15:56 26:55.6 
   69         7 Avery Bouchard        So BridgewaterState (Ma)      5:15 16:14 26:56.8 
   70        41 Kevin Gale            Jr Washington (Missouri)      5:14 16:06 26:57.5 
   71   42  221 Christopher Guerriero Fr College of New Jersey      5:08 16:08 26:57.8 
   72   43  254 Justin Chung          Jr Tufts University           5:12 16:10 26:57.8 
   73   44  126 Bill Reynolds         So Calvin College             5:07 16:08 26:57.9 
   74   45  172 Travis Bristow        Jr Hamline University              16:18 26:58.6 
   75   46  215 Vince Sickler         So Nebraska Wesleyan          5:15 16:16 26:58.9 
   76   47  229 Nick Hird             Jr North Central College      5:05 16:03 27:00.9 
   77        30 Brad Schroeder        Sr Ohio Northern              5:13 16:06 27:01.2 
   78   48  166 Ross Hunkovic         Sr Geneseo S U N Y            5:13 16:17 27:02.7 
   79   49  217 Greg Timblin          So Nebraska Wesleyan          5:16 16:17 27:03.0 
   80   50  264 Kevin Balster         Jr Wartburg College           5:09 16:09 27:03.3 
   81   51  256 Matthew Fortin        Sr Tufts University           5:17 16:17 27:03.6 
   82   52  129 Tyler Zwagerman       Jr Calvin College             5:12 16:13 27:03.6 
   83   53  259 Chris Kantos          So Tufts University           5:12 16:17 27:04.6 
   84   54  245 Chris Erichsen        So Saint John's (Minn)        5:22 16:21 27:05.1 
   85   55  157 Emil Bojanov          Jr University of Chicago      5:15 16:17 27:06.3 
   86        44 Joe Francisco         Jr Widener University         5:03 15:56 27:06.5 
   87        12 Daniel Castaneda      Sr Colorado College           5:21 16:26 27:08.2 
   88   56  261 Matthew Lacey         Sr Tufts University           5:02 15:58 27:08.5 
   89   57  150 Eric Hack             Jr Centre College             5:09 16:13 27:10.2 
   90   58  241 Will Leer             Jr Pomona-Pitzer              4:59 16:00 27:10.4 
   91   59  136 John Nowinski         So Carleton College           5:19 16:22 27:10.9 
   92   60  270 Patrick Johnson       Jr Wartburg College           5:13 16:16 27:11.7 
   93   61  301 Nick Symmonds         Jr Willamette University      5:00 16:13 27:12.2 
   94   62  185 William Mcguire       Sr Haverford College          5:14 16:23 27:12.4 
   95   63  220 Dave Dos Santos       So College of New Jersey      5:09 16:12 27:12.7 
   96   64  293 Ian Batch             So Willamette University      5:08 16:15 27:13.3 
   97        24 Ricky Flynn           Fr Lynchburg College          5:04 16:11 27:13.7 
   98   65  219 Kyle Alpaugh          So College of New Jersey      5:08 16:10 27:13.8 
   99   66  252 Kyle Triggs           Jr Saint John's (Minn)        5:23 16:31 27:14.4 
  100   67  141 Mike Bridenbaugh      Jr Carnegie Mellon                 16:25 27:14.8 
  101   68  214 Rob Hruska            Sr Nebraska Wesleyan          5:17 16:26 27:15.4 
  102   69  299 Scott Overby          Sr Willamette University      5:08 16:13 27:15.5 
  103        35 Kota Reichert         Sr Univ of Puget Sound             16:11 27:15.8 
  104   70  230 Roland Hopkins        Sr North Central College      5:05 16:08 27:16.0 
  105   71  207 Jason Sigmund         So Mount Union College        5:17 16:24 27:16.4 
  106        17 Tyson Evensen         Jr Elizabethtown College      5:10 16:08 27:16.8 
  107   72  101 Chris Carrier         Sr Allegheny College          5:00 16:07 27:17.4 
  108   73  179 Dan Steinbrecher      So Hamline University         5:21 16:29 27:18.1 
  109        23 Adam Bohach           Jr Luther College             5:19 16:15 27:19.0 
  110   74  195 Joe Hegarty           Sr Keene State College        5:06 16:11 27:19.4 
  111   75  317 Brian Kelley          Jr Wisconsin Oshkosh          5:11 16:18 27:19.5 
  112        20 Josh Martsolf         Sr Greenville College              16:19 27:19.9 
  113        39 John Mercuri          Jr Univ of Scranton           5:08 16:16 27:20.1 
  114        19 Greg Wetzel           Sr Elizabethtown College      5:12 16:28 27:20.3 
  115         8 Stephen Hrinda        Sr Case Western Reserve       5:10 16:14 27:20.6 
  116        18 Jason Theobald        Jr Elizabethtown College      5:11 16:18 27:21.3 
  117   76  119 Kyle Weller           Sr Anderson (Indiana)         5:11 16:22 27:25.2 
  118   77  124 Tad Hulst             So Calvin College             5:16 16:35 27:25.9 
  119   78  280 Jon King              Jr Wesleyan Univ (Ct)         5:17 16:24 27:26.1 
  120   79  288 Tim Henry             Sr Wheaton College (Ill)           16:25 27:27.6 
  121   80  160 Ryan Mccarl           So University of Chicago      5:18 16:30 27:27.7 
  122   81  170 Dan Moore             Sr Geneseo S U N Y            5:09 16:14 27:28.3 
  123   82  176 Chris Lutz            Jr Hamline University         5:22 16:33 27:29.3 
  124        36 Dave Billings         Sr Ripon College              5:01 16:10 27:30.0 
  125   83  284 Daniel Ball           So Wheaton College (Ill)      5:15 16:25 27:31.2 
  126   84  148 Nate Blank            So Centre College             5:18 16:34 27:31.6 
  127   85  255 Kyle Doran            Sr Tufts University           5:19 16:36 27:32.3 
  128   86  173 Brandon Gleason       So Hamline University         5:21 16:32 27:32.8 
  129   87  232 Andy Hubner           Sr North Central College      5:06 16:26 27:32.8 
  130   88  169 Mike Mcgrath          Jr Geneseo S U N Y            5:11 16:09 27:32.9 
  131   89  171 Jim Tillapaugh        Jr Geneseo S U N Y            5:13 16:25 27:33.3 
  132   90  201 Dustin Ford           Fr Mount Union College        5:16 16:27 27:33.4 
  133   91  152 Mark Noll             Sr Centre College             5:14 16:35 27:33.5 
  134   92  103 Marco Dozzi           Jr Allegheny College          5:19 16:33 27:34.6 
  135   93  180 Chris Yotter          Jr Hamline University              16:29 27:34.9 
  136   94  265 Ben Carlson           Sr Wartburg College           5:18 16:35 27:35.4 
  137   95  144 Brian Harvey          Fr Carnegie Mellon            5:16 16:34 27:35.5 
  138   96  297 Travis Harris         Jr Willamette University      5:16 16:31 27:36.2 
  139   97  242 Sean Mccarron         Jr Pomona-Pitzer              5:11 16:27 27:37.4 
  140        22 Ben Grant             So Loras College              5:19 16:36 27:37.6 
  141   98  158 Brian Hague           Jr University of Chicago      5:16 16:22 27:37.7 
  142   99  138 Adam Williamson       Sr Carleton College           5:15 16:24 27:37.9 
  143  100  224 Brian Kopnicki        So College of New Jersey      5:08 16:13 27:39.0 
  144  101  306 Mike Herlihy          Sr Wisconsin La Crosse        5:02 16:12 27:39.3 
  145        27 Matthew Manning       Sr Mississippi College        4:59 16:04 27:40.5 
  146  102  102 Chris Corkins         So Allegheny College          5:10 16:28 27:41.0 
  147  103  313 Nate Boehlke          Jr Wisconsin Oshkosh          5:16 16:28 27:41.2 
  148  104  295 Josh Clough           Fr Willamette University           16:29 27:41.4 
  149  105  206 Chris Paulett         Sr Mount Union College        5:17 16:36 27:45.1 
  150  106  199 Brian Bernard         So Mount Union College        5:20 16:45 27:45.3 
  151  107  253 Mitch Vanbruggen      So Saint John's (Minn)        5:20 16:30 27:45.8 
  152  108  236 Paul Rollet           Jr North Central College      5:06 16:10 27:46.4 
  153  109  154 John Thompson         So Centre College             5:15 16:43 27:47.6 
  154        49 Matt Kramer           So Wisconsin Superior         5:16 16:38 27:48.3 
  155  110  146 Bill Lordan           Fr Carnegie Mellon            5:13 16:35 27:48.5 
  156  111  287 Jeff Goertz           Jr Wheaton College (Ill)      5:15 16:34 27:48.7 
  157  112  186 Bernard Muller        Sr Haverford College               16:39 27:49.2 
  158  113  320 Patrick O'brien       So Wisconsin Oshkosh          5:14 16:31 27:49.3 
  159  114  246 Kelly Fermoyle        So Saint John's (Minn)        5:24 16:48 27:49.9 
  160  115  275 Mike Brady            Jr Wesleyan Univ (Ct)         5:19 16:37 27:50.6 
  161  116  194 Matthew Haley         Sr Keene State College             16:36 27:51.4 
  162  117  300 Carlos Ruiz           Sr Willamette University           16:19 27:52.5 
  163  118  105 Matt Hoy              Fr Allegheny College          5:12 16:27 27:52.6 
  164  119  285 Micah Danielson       Fr Wheaton College (Ill)      5:23 16:50 27:54.3 
  165  120  156 Jon Ascolese          Fr University of Chicago      5:18 16:38 27:56.6 
  166  121  151 Anthony Lippert       Jr Centre College             5:16 16:38 27:57.2 
  167  122  269 Andy Hodge            So Wartburg College                16:41 27:57.5 
  168  123  147 Geiff Misek           Jr Carnegie Mellon            5:17 16:30 27:57.9 
  169  124  155 Chase Wilson          Fr Centre College             5:11 16:38 27:58.0 
  170  125  278 Anda Greeney          Jr Wesleyan Univ (Ct)         5:23 16:47 27:58.7 
  171        29 Kevin Chaves          So Occidental College         5:06 16:31 27:59.5 
  172  126  289 Brandon Lewis         So Wheaton College (Ill)      5:21 16:52 28:01.7 
  173  127  298 Tristan Knutson-Lomba Fr Willamette University      5:09 16:32 28:03.4 
  174  128  143 Breck Fresen          Fr Carnegie Mellon            5:17 16:30 28:03.6 
  175  129  225 Matthew Randal        Sr College of New Jersey      5:08 16:30 28:04.5 
  176  130  262 Neil Orfield          Sr Tufts University           5:19 16:38 28:04.9 
  177  131  250 Eric Nelsen           Sr Saint John's (Minn)             16:47 28:05.5 
  178  132  223 Galen Johnson         So College of New Jersey      5:10 16:37 28:06.6 
  179  133  133 Quentin Kennedy       So Carleton College                16:39 28:07.1 
  180  134  165 Billy Holl            Jr Geneseo S U N Y            5:19 16:41 28:07.4 
  181  135  116 Derek Reiff           Jr Anderson (Indiana)         5:20 16:49 28:10.9 
  182  136  247 Zach Hunter           Fr Saint John's (Minn)        5:24 16:54 28:11.2 
  183  137  240 Nik Hlady             Fr Pomona-Pitzer              5:16 16:52 28:12.6 
  184  138  149 Jeff Briggs           Sr Centre College             5:13 16:49 28:13.1 
  185  139  168 Andrew Mccarthy       Sr Geneseo S U N Y            5:13 16:36 28:14.0 
  186  140  205 Matt Oberly           Sr Mount Union College        5:20 16:45 28:14.1 
  187  141  108 Garret Piispanen      Fr Allegheny College          5:13 16:46 28:15.0 
  188  142  282 Sean Watson           So Wesleyan Univ (Ct)         5:23 16:58 28:19.8 
  189  143  137 Joe Sepe              So Carleton College           5:41 17:19 28:20.5 
  190  144  238 Maas David            Jr Pomona-Pitzer              5:13 16:45 28:21.7 
  191  145  268 Scott Cross           Sr Wartburg College                16:58 28:23.6 
  192  146  203 Justin Meeson         Fr Mount Union College        5:22 16:53 28:25.2 
  193  147  164 Will Haskell          Fr Geneseo S U N Y            5:15 16:47 28:27.2 
  194  148  191 Patrick Ard           Sr Keene State College        5:15 16:52 28:27.7 
  195  149  139 Reuben Woodruff       Jr Carleton College           5:24 16:56 28:27.8 
  196  150  162 Dan Raleigh           Jr University of Chicago      5:18 16:58 28:29.5 
  197  151  114 Matt Ingalls          So Anderson (Indiana)         5:16 16:49 28:33.0 
  198  152  312 Bill Walkowicz        Sr Wisconsin La Crosse        5:07 16:19 28:34.8 
  199  153  135 Eamon Monaghan        So Carleton College           5:24 17:04 28:36.1 
  200  154  227 Steve Albanese        Jr North Central College      5:12 16:55 28:38.0 
  201  155  218 Cody Waite            So Nebraska Wesleyan          5:15 16:54 28:39.7 
  202  156  237 Rich Cannon           Sr Pomona-Pitzer              5:16 16:56 28:41.3 
  203  157  235 Dan Rodriguez         Jr North Central College      5:07 16:33 28:41.9 
  204  158  197 Joe Reynolds          Jr Keene State College        5:22 17:09 28:58.4 
  205  159  321 Derek O'connell       Sr Wisconsin Oshkosh          5:24 17:16 29:00.0 
  206  160  104 Devon Flynnperrault   Fr Allegheny College          5:10 16:40 29:00.2 
  207  161  316 Willy Kaul            So Wisconsin Oshkosh          5:08 17:01 29:00.3 
  208  162  198 Sheridan Welch        Fr Keene State College        5:22 17:21 29:13.5 
  209  163  281 Matt Shea             So Wesleyan Univ (Ct)         5:23 17:24 29:28.4 
  210  164  243 Will Swanson          Sr Pomona-Pitzer              5:16 17:25 29:45.9 
  211  165  117 Dan Timm-Zimmerman    Sr Anderson (Indiana)         5:26 18:17 31:03.8 



Back