Five Young Reporters Write Indianapolis Star Essays on Mikhail Gorbachev's Ubben Lecture at DePauw
November 20, 2005
Also: "We Only Have a Common Future," Mikhail Gorbachev Tells Overflow Crowd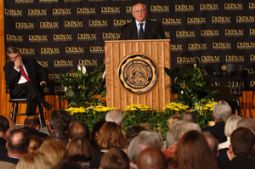 November 20, 2005, Greencastle, Ind. - "Last month, five members of Y-Press heard former Soviet President Mikhail Gorbachev speak at DePauw University," notes today's Indianapolis Star. "While they had researched the activities and background of Gorbachev and his environmental advocacy organization, Green Cross International, they were struck by Gorbachev's dire forecasts that environmental problems may lead to a worldwide war." The newspaper includes five essays from young reporters, ages 12 to 17, who attended Gorbachev's October 27 Timothy and Sharon Ubben Lecture.
Y-Press is a nonprofit youth news bureau that stresses youth development and
leadership. Stories are researched, reported and written by reporters (ages 10-13) and editors (ages 14-18) for audiences of all ages.
Fifteen-year-old Izaak Hayes writes, "I have known for years that conservation is important, ever since I was little and would walk through the Department of Natural Resources Building at the Indiana State Fair. Seeing Mikhail Gorbachev in person, however, made me realize how many challenges my generation faces in dealing with dwindling natural resources... My generation will have to fight and pay for conflicts in many different ways. At the very least, we will have to deal with the problems that we as a nation are creating right now. We must take drastic measures to conserve the resources we have, as well as spread the messages of caution and warning from political and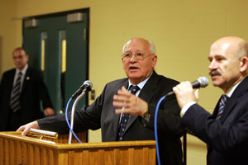 environmental activists like Gorbachev."
Millie Cripe, 12, attended the news conference in DePauw's Lilly Center following the Ubben Lecture. "Standing in a roomful of adults waiting for Mikhail Gorbachev is unnerving. Add in approximately 25 experienced journalists, all shouting, 'Mr. President!' and the situation becomes downright terrifying. At a press conference following Mr. Gorbachev's speech, he called on me. 'Ah, a question from the youngest in the room,' he said, smiling. I was incredibly nervous, as I was a seventh- grader and he is a Nobel Prize winner. I asked, 'Mr. President, you have seen many changes in your time, both governmental and social. In your opinion, what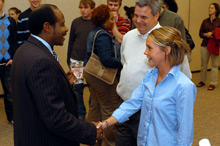 has been the biggest change for youth in your country since the fall of Communism?' Gorbachev responded that the biggest change for Russian youth has been the basic freedoms now enjoyed by all citizens. Before, Russians didn't have such basic rights as freedom of speech that I take for granted. I can't imagine life without them."
Read the entire column at the Star's Web site. Y-Press reporters also covered Paul Rusesabagina's April 25, 2005 Ubben Lecture at DePauw. Learn more in this previous story.
Back