Indiana Governor Appoints Jeffrey Chalfant '92 Circuit Court Judge
November 21, 2005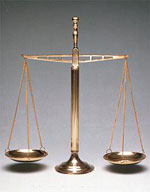 November 21, 2005, Greencastle, Ind. - Jeffrey Alan Chalfant, an attorney with the firm of Bauer & Densford and 1992 graduate of DePauw University, has been appointed judge of Monroe County Circuit Court VIII. The appointment was one of six announced by Indiana Governor Mitch Daniels. Chalfant fills a vacancy in a new court recently created by the Indiana General Assembly and becomes the first judge to preside over the chamber.
"The people of Indiana are fortunate to have qualified and talented individuals willing to serve as judges," says Gov. Daniels. "I'm confident each of these appointees will serve the citizens of their counties with distinction as they further the interests of fairness and justice on the bench."
Chalfant previously served as a deputy prosecutor and public defender in Monroe County. An announcement from the governor's office notes that Chalfant "received his undergraduate degree from DePauw University and his law degree from Indiana University School of Law - Bloomington."
Read more by clicking here.
Back