Tigers claim tourney title and improve to 4-1 with win over Wilmington
November 27, 2005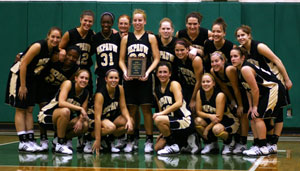 November 27, 2005, Wilmington, Ohio - DePauw captured the Fred Raizk Memorial Tournament title and improved to 4-1 on the season following an 88-75 win over host Wilmington. The Lady Quakers dropped to 3-1 with the loss.
Gretchen Haehl and Liz Bondi posted career highs with 25 and 24 points, respectively and Bondi grabbed a career-best 11 rebounds in the win. Bondi was named the tournament MVP, while Haehl also earned a spot on the all-tournament team.
Lindsay Houin added 12 for the Tigers, while Kalei Lowes followed with 10 as the Tigers picked up their third straight win.
Kelly Peters paced Wilmington with 33 points and 14 rebounds, while Katie Streck added 12 points and Erica Smith followed with 11.
DePauw opens Southern Collegiate Athletic Conference play on Friday, December 2, at Hendrix.
Back