Monon Bell DVD Will Ship Soon; Order Yours Today
November 29, 2005
Order Your Monon Bell DVD Here
Highlights of the 112th Monon Bell Classic
November 29, 2005, Greencastle, Ind. - The DVD of the 112th Monon Bell Classic is now completed and in the hands of Sony Disc Manufacturing and will be shipped in mid-December, in time for holiday delivery. The platter includes approximately three hours of material -- including every play of the hard-fought 2005 battle for the Bell, 21 'Monon Memories' of past games dating back to 1940, a photo gallery, all-time scores, and the two schools' halftime videos. Order your disc online by clicking here.

[Download Video: "2005 Monon Memory" - 9931kb]� "Given that Hollywood studios take several months to put a DVD together, it's always a challenge to turn this project around in a few weeks' time," says Ken Owen '82, director of media relations at DePauw, who edited and mastered the finished product. He received
key assistance from Eric Harvey of the Pulliam Center for Contemporary Media and Mike Triplett, a DePauw senior, as well as DePauw's Information Services team.
Owen and Jim Amidon, director of public affairs and marketing at Wabash College, co-produced the telecast of the game seen nationally on DirecTV and at more than 50 alumni parties across the nation. Amidon contributed the cover and disc art (seen in accompanying photos), and DePauw University's Matt Bowen created the on-screen menus and, along with Amidon, provided the images seen in the expansive photo gallery.

[Download Video: "1942 Monon Memory" - 1967kb]
"Awareness of the Monon Bell and its status as one of college football's greatest rivalries has grown in recent years, and the DVD is a factor in that," says Amidon. "It's great for the players, their families, and alumni from Wabash and DePauw to have a permanent record of the game, and the extras reinforce the great traditions of this rivalry. It may be small
college football, but the Monon Bell Classic is a big deal."
The DVD is available online for $12. Access the order form by clicking here. DVDs of the 2001, 2002 2003 and 2004 games can also still be purchased.

[Download Video: "1997 Monon Memory" - 2985kb]
The Monon Bell DVDs have been available through the Internet, campus bookstores and an Indianapolis Borders Books and Music store, and have been reviewed in the Indianapolis Star, where reviewer Steve Slosarek called the 2003 disc "a splendid keepsake."
For a recap of the 112th Monon Bell Classic, including video highlights of the game, click here. Visit DePauw's Monon Bell Web page here, and get the latest on the football program here.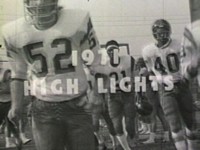 Access a list of "Monon Memories" -- video highlights of past Monon Bell games produced by Owen -- by clicking here.

[Download Video: "2004 Monon Memory" 7774KB]
Wabash holds a slim 52-51-9 lead in the all-time series, while DePauw leads in games played for the Monon Bell by a 35-33-6 count.
An online poll conducted this summer at ESPN.com determined the Monon Bell Classic to be Indiana's best sports rivalry. Learn more in this previous story.
Back