General Mills CEO Steve Sanger '68 Discusses 'Future of Food' at Washington Conference
December 3, 2005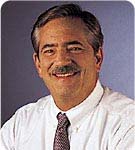 December 3, 2005, Greencastle, Ind. - Stephen W. Sanger, chairman and CEO of General Mills, Inc. and a 1968 graduate of DePauw University, was among the panelists at the Grocery Manufacturing Association's 2005 Conference on the Future of Food this week in Washington, D.C. The panel noted, "Genetically modified crops that offer specific benefits to consumers may help quell some of the controversy surrounding agricultural bioengineering," writes Matthew Enis in Supermarket News. He quotes Sanger as saying, "New technology is always controversial," and the CEO believes, in Enis' words, "that a positive shift in consumer perception will likely come when biotech firms begin making products with 'obvious benefits to consumers.'"
Access the article by clicking here.
Steve Sanger was the recipient of a 2004 Diversity CEO Leadership Award from Diversity Best Practices (DBP) and the Business Women's Network (BWN). The award recognizes business leaders who are proven champions and advocates of creating inclusive, respectful, and diverse corporate cultures. Read more here. Sanger received an honorary degree from DePauw at its commencement exercises in May 2004.
Read more, and access a video clip, here.
Back