War on Terror Gets Poor Marks in "Report Card" Issued by 9/11 Commission and Co-Chair Lee Hamilton '52
December 5, 2005
December 5, 2005, Greencastle, Ind. - The 9/11 Commission -- co-chaired by Lee Hamilton, a 1952 graduate of DePauw University, "is giving Congress and the White House poor marks on protecting the U.S. against an inevitable terror attack because of their failure to enact several strong security measures," Today, "the 10-member panel, equally divided between Republicans and Democrats," issued a report on how well its 41 recommendations have been followed. The commission says the government deserves "more F's than A's."

[Download Video: "Lee Hamilton '52 on Meet the Press" - 2224kb] "There is a lack of a sense of urgency," Hamilton told NBC's Meet the Press. The former Democratic congressman from Indiana added, "Sustainability is a very tough thing in our government, just because there are so many competing priorities.. We've got three wars going on: one in Afghanistan, one in Iraq and the war against terror. And it's awfully hard to keep people focused on something like this."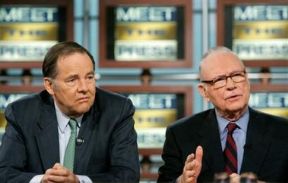 Hamilton appeared on Tim Russert's news program yesterday with chairman Thomas Kean, a former Republican governor of New Jersey. "What Tom and I and the other commissioners are saying is we have to get back to a real sense of urgency about protecting the safety and the security of the American people."
Hamilton told NBC,

[Download Video: "The Key Problem" - 1334kb] "The key problem here is making hard choices. What we do is continue to talk about hard choices; we don't make the hard choices. And the hard choices require us to do what Tom said: and that is, make distinctions, priorities -- this needs to be protected; that, we don't have sufficient funds to protect."
"People are not paying attention," Kean told the program. "God help us if we have
another attack."
Read more in this Associated Press story.
In June, Lee Hamilton received the national Jefferson Award for Public Service for his work on the 9/11 Commission.
The former congressman returned to DePauw on September 17, 2004 for "DePauw Discourse 2004: Issues for America," a three-day election issue forum hosted by the Washington C. DePauw Society, where he discussed the work of the 9/11 panel. A summary of his comments, including video and audio clips, can be found by clicking here.
Back