"Vote Buying" Case in West Virginia Examined by Prof. Ken Bode
December 9, 2005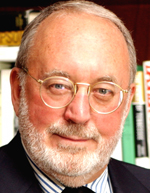 December 9, 2005, Greencastle, Ind. - "In the southern coalfield counties of West Virginia, political corruption is so endemic that U.S. attorneys, the FBI and IRS always seem to have at least one task force operating," writes Ken Bode in today's Indianapolis Star. "The most recent target was Logan County, and the crime was vote-buying."
In his weekly op-ed column, Bode, Eugene S. Pulliam Distinguished Visiting Professor of Journalism at DePauw University, examines the case of "Thomas Esposito, mayor of the city of Logan, [who] was found to have paid the $6,500 bar tab of a local magistrate and then paid off the magistrate directly to buy his silence. Esposito entered a plea agreement with the government requiring him to cooperate with the investigation of corruption. What the federal prosecutors wanted Esposito to do was file as a candidate for the House of Delegates, then meet with his old cronies and political operatives to arrange for vote-buying in the primary election. This, they hoped, would uncover a treasure
trove of corruption."
The strategy led to the arrests of two locals. One was granted immunity; the other, "Perry French Harvey Jr., a retired coal miner... is scheduled to go on trial next week on one charge of conspiracy to buy votes." Bode, former senior political analyst for CNN points out that "Harvey and his lawyers make multiple points in his defense. First, they argue, the government itself corrupted the election. By putting a sham candidate in the field, every vote cast for Esposito was a vote that could have been cast for a real candidate. In effect, part of Harvey's defense will be that the government created the crime. They have a point."
The professor writes that "The scheme to have Esposito file for office was approved all the way to the top of the Department of Justice." In conclusion, Dr. Bode states, "Harvey lost his bid to have the case thrown out. The judge said that corruption in Logan County had been going on longer than living memory, that people with knowledge of it are

reluctant to testify against their friends, and Esposito's fetcher candidacy might be the only way to root it out. It's a groundbreaking prosecution theory and should lead to an interesting day in court."
Read the complete essay at College News.org.
Ken Bode's other recent op-eds can be accessed here, here, here, here,here, here, here, and here.
Source: Indianapolis Star
Back