Decision of Some "Megachurches" to Forgo Christmas Day Services Discussed by Prof. Valarie Ziegler
December 12, 2005

December 12, 2005, Greencastle, Ind. - "The discussion in Valarie Ziegler's religious studies class last Monday turned to the topic of 'megachurches' -- large Protestant congregations with tens of thousands of members," begins today's column by Mark Bennett in the
Terre Haute Tribune-Star
. "And one of her students in that class at DePauw University in Greencastle belongs to a megachurch near Chicago -- Willow Creek Community Church. It's big enough to support its own food court. 'It looks like a mall, but you're still in a church,' Ziegler explained."
Bennett writes, "That evangelical church is one of several of its kind across the nation that have made the difficult decision to not hold worship services on Sunday, Dec. 25, which is, of course, Christmas -- the day set aside by Christians to celebrate the birth of Jesus Christ. Instead, these churches are

asking members to spend that typical service time with their families. The last time Christmas came on a Sunday in 1994, attendance was thin at Willow Creek, church spokeswoman Cally Parkinson told the Associated Press. Organizing services for such a turnout would not be the most effective use of staff and volunteer resources, she said."
"Not surprisingly, the decision by these churches has drawn criticism from within the religious and evangelical community that they've given in to secular culture," the columnist asserts. "Such topical issues often get discussed in Ziegler's classes at DePauw, where as a professor of religious studies she teaches courses in Christian theology, the New Testament and Religion in American Culture. Indiana, she said, has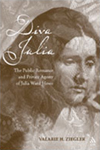 an interesting religious history, from its Amish communities to well-known Catholic institutions such as the Sisters of Providence at St. Mary-of-the-Woods, Saint Meinrad Archabbey and Notre Dame University. Her DePauw students come from a variety of backgrounds -- some Christian, some Jewish, some Muslim and some with no religious experience."
Access the complete story at the newspaper's Web site.
Dr. Ziegler's book, Diva Julia: The Public Romance and Private Agony of Julia Ward Howe, is the first full-length biography of Howe and earned her the inaugural Trinity Prize. Read more in this previous story.
Back