Monon Bell DVD is Ready to Ship
December 13, 2005
Order Your Monon Bell DVD Here
Highlights of the 112th Monon Bell Classic
December 13, 2005, Greencastle, Ind. - If you ordered the DVD of the 112th Monon Bell Classic, be checking your mailbox in the coming days. The finished product was delivered to DePauw today by Sony Disc Manufacturing and will ship immediately. The platter includes approximately three hours of material -- including every play of the hard-fought 2005 battle for the Bell, 21 'Monon Memories' of past games dating back to 1940, a photo gallery, all-time scores, and the two schools' halftime videos.

[Download Video: "2005 Monon Memory" - 9931kb]

[Download Video: "2004 Monon Memory" 7774KB] The DVD is available online for $12. Access the order form by clicking here. DVDs of the 2001, 2002, 2003 and 2004 games can also still be purchased. The Monon Bell DVDs have been available through the Internet, campus bookstores and an Indianapolis Borders Books and Music store, and have been reviewed in the Indianapolis Star, where reviewer Steve Slosarek called the 2003 disc "a splendid keepsake."

[Download Video: "1980 Monon Memory" - 1795kb] Read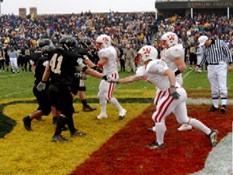 more about the DVD project in this previous story.
For a recap of the 112th Monon Bell Classic, including video highlights of the game, click here. Visit DePauw's Monon Bell Web page here, and get the latest on the football program here. Access a list of "Monon Memories" -- video highlights of past Monon Bell games produced by Ken Owen '82, director of media relations at DePauw -- by clicking here.
The Monon Bell Classic gets some ink in the December 12 issue of Sports Illustrated, which details five of its favorite college rivalry pranks -- a 1965 incident in Greencastle being one of them. Read more here.
Back