David Cryer '58 to Join Broadway Cast of Phantom of the Opera
December 19, 2005
December 19, 2005, Greencastle, Ind. - David Cryer, a 1958 graduate of DePauw University who has been touring the nation as a member of the cast of Phantom of the Opera for 13 years, tells Cin Weekly, "I'm going on to the Broadway show (in New York City) in January. Finally, I'll get to be home!" Cryer and his fellow cast members are in Cincinnati, where Phantom continues through January 1 at the Aronoff Center for the Arts.
A native of Findlay, Ohio, Cryer portrays Monsieur Firmin in the musical. The magazine offers "10 questions with actor David Cryer."
Of Phantom, Cryer says, "I think you're likely to really feel something when you see it, and there are a lot of shows where you don't. You might even cry. I do think people often come to Phantom for the spectacle, but really it's a grown-up kind of Beauty and the Beast story. And I think it's complicated the way life is beautifully complicated."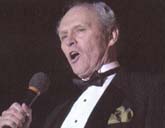 The magazine's Julie Fitzgerald also asks Cryer whether his son -- movie and television actor Jon Cryer -- has checked out dad's work in Phantom. "He's seen it several times, but the most fun was in Los Angeles two years ago. At that time, he thought it was the best thing he'd ever seen. You know, when there's somebody you love out in the audience it's like you do the whole thing for them. You're so self-aware, it's hard. In fact, when he saw it earlier in Salt Lake City, I forgot some lines because I was so nervous about his being there. But in Los Angeles I got it right."
Read the complete interview by clicking here.
Back