Assistant Coach Josh Buis '01 Celebrates Division II National Football Championship
December 24, 2005

December 24, 2005, Greencastle, Ind. - "No matter where he has gone, Josh Buis has left an impression that will not be forgotten," begins a story in Greencastle's Banner-Graphic on Buis, running backs coach and recruitment coordinator at Grand Valley State University in Michigan and 2001 DePauw University graduate. "One week ago he accomplished something that every collegiate coach hopes to do -- win a national championship. GVSU brought home the NCAA Division II football championship last Saturday for the third time in five years and it was one of the greatest moments that Buis has ever experienced as a coach."
He tells the newspaper, "It was a great feeling sharing that moment with 100 guys on that field who poured their hearts into that game." Buis was a graduate assistant on Northwestern University's football team while he worked on his master's degree and was on the sidelines with the Wildcats in the 2003 Motor City Bowl. "I'm only 27 and I have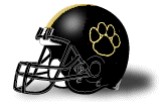 accomplished things that coaches who have been coaching for 30 years haven't done," he says. "I've coached in a major college bowl and have won a national championship."
Buis says that DePauw's now-retired head football coach "Nick Mourouzis is the number one reason I am a football coach besides my family. Nick is like second father to me and he recruited me from South Putnam. He took me under his wing and taught me a lot, and if there is anything I took from DePauw it is how to coach. He also taught me how to balance everything between me being a coach and my family."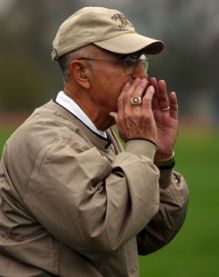 Mourouzis (seen at left) tells the Banner-Graphic, "After his first year coaching, he showed things on a chalk board and I was amazed at the knowledge that he had learned in a short time. Josh started out as a defensive back for us, then moved to center where he led the offensive line, knowing all the blocking assignments, and he was a captain his senior year. He was a true leader... I am proud of him. He was like a son to me, and he could handle a head coach's position. He has coached the offensive line, defensive line and the backs, and the experience he received is what he needed."
Buis was a three-year letterman at DePauw and earned All-SCAC and Academic All-SCAC honors during his career. Read the complete story at the newspaper's Web site.
Back