Cleveland Johnson Appointed Interim Dean of DePauw School of Music
December 27, 2005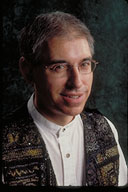 December 27, 2005, Greencastle, Ind. - Cleveland Johnson, professor of music, has been appointed interim dean of the DePauw University School of Music, and will serve in that capacity until the Fall of 2007. The current dean, Amy Lynn Barber, is resigning to devote more time to her teaching and recording. Johnson will assume the position January 2.
"Professor Johnson has been a valuable member of the School of Music faculty since 1985, and was the choice of his colleagues to serve in this important position as we begin a national search for the new dean," says Neal B. Abraham, executive vice president of the University, vice president for academic affairs and dean of the faculty. "I'm delighted that Cleve has agreed to take on these responsibilities."
Cleveland Johnson holds a B.Mus. degree from the Oberlin College Conservatory of Music and the D.Phil. from Oxford University. He is a respected scholar/performer with a special interest in the
seventeenth-century German organ and its literature. His most exemplary contributions to this field are his three-volume edition of previously unpublished organ works by the seventeenth-century Hamburg organist, Heinrich Scheidemann, and 6 compact disc recordings of Scheidemann's organ music. Most recently, he has begun to investigate the history of keyboard instruments in India. This work includes the documentation of historic pipe organs there, as well as at the history of the indigenous Indian harmonium.
In the classroom, Dr. Johnson is particularly interested in the appropriate pedagogical use of new technologies. Rather than using techology to distance the professor from his students, he explores ways to enhance the classroom experience in the liberal arts tradition. His work has received grant support from the National Endowment for the Humanities, the Lilly Foundation, the Andrew W. Mellon Foundation, the Thomas J. Watson Foundation, the American Institute for Indian Studies, and the Deutscher Akademischer Austauschdiesnst (Fulbright).
"I'm looking forward to working with my colleagues to continue the strong traditions of the DePauw School of Music and to help its students achieve at their very highest levels," Johnson says. "I feel honored that my peers considered me worthy of this task."
Founded in 1884, the DePauw University School of Music is one of the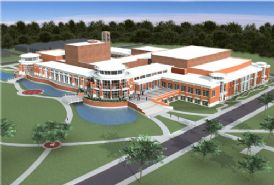 oldest in the nation. It has an established tradition of educating leaders in virtually every facet of music including performers, educators, composers, and administrators. Visit the School of Music online by clicking here.
In October, the University announced that a $15 million dollar lead gift by Joyce Taglauer Green '75 and Judson C. Green Jr. '74 will allow for a $29 million expansion and renovation of DePauw's 32-year-old Performing Arts Center. The building, home to the School of Music and department of communication, will be known as the Judson and Joyce Green Center for the Performing Arts. Work is under way, and should be completed by the Fall of 2007. Learn more about the project in this previous story.
Back