Bette Erxleben '62 is Indiana County's 'Outstanding Citizen of the Year'
December 27, 2005
December 27, 2005, Greencastle, Ind. - "Bette (Alexander) Erxleben, who took the Wells County traits of caring and volunteering to new heights and led in the transformation of the Wells County Foundation into the heart and soul of a caring community, is the county's Outstanding Citizen of the Year," notes today's edition of Indiana's Bluffton News-Banner. Erxleben, director of the Foundation and 1962 graduate of DePauw University, "will receive the prestigious award, joining the all-time ranks of revered leaders here, at the annual banquet meeting of the Wells County Chamber of Commerce-Economic Development on Jan. 23, 2006."
Born in Greencastle, Bette and her parents moved 45 miles west when she was two. "Her life growing up in Indianapolis was a foundation for the direction of the great achievements over which she is now being honored," writes Jim Barbieri, editor and publisher of the News-Banner and 1950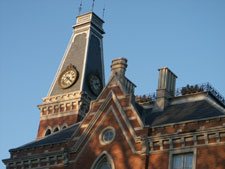 DePauw graduate. "The neighborhood was a special community of its own, a community of values and caring. Close to her house was a mixture of black, Jewish, Catholic and old German families -- and people of ages. Bette Erxleben learned then to help the elderly without prospect of being paid. Her volunteerism was born young. But it also was an opportunity to learn and to benefit too from sharing. Integration of schools worked well in that neighborhood, where churches also were both spiritual and physical stalwarts, providing recreational and athletic programs too."
The story also notes that Erxleben came "to DePauw University as a French and Spanish major toward an expected career in teaching, then subsequently toward being a translator. However, it was during those DePauw years that she met Walter Erxleben," a fellow 1962 graduate, who
became her husband.
Bette Erxleben became director of the Wells County Foundation in 1991. She is retiring at the end of the month. Barbieri writes, "Quietly doing things that make lives of others better now and for years and generations in the future became a way of life for Bette Erxleben, all while others were only talking about it. That's why she is to be honored as the Wells County Outstanding Citizen of the Year."
Access the complete article at the newspaper's Web site.
Back