North Carolina School's Prize? A Visit by Award-Winning Author Richard Peck '56
December 28, 2005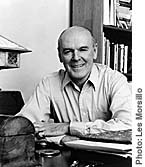 December 28, 2005, Greencastle, Ind. - "A Newberry Award winning author of books for young adults" and 1956 graduate of DePauw University, Richard Peck is also a prize, according to North Carolina's Charlotte Observer. "Regina Cook, an eighth-grade language arts teacher at H.M. Arndt Middle School, recently won a contest sponsored by publisher Prentice Hall... Cook's prize will include a visit from Richard Peck, a featured Penguin author in the Prentice Hall seventh-grade language arts book."
The newspaper story continues, "Peck will visit Jan. 10 to conduct a writing workshop for 20 students. Prior to his visit, the students will receive a novel from the author and a preworkshop assignment... Peck is known for thought provoking novels, humorous stories and his Blossom Culp series. His books have received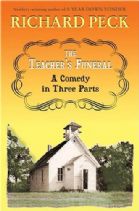 or been finalists for several prestigious awards, including the National Book Award, the Edgar Award from the Mystery Writers of America, and the Margaret A. Edwards Award."
Access the article at the newspaper's Web site.
Richard Peck, who has been called "America's best living author for young adults," was the 2001 recipient of the Newbery Medal (the top prize for children's literature given by the American Library Association). Readers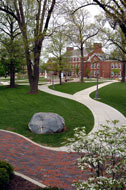 of Disney Adventures magazine selected Peck's The Teacher's Funeral: A Comedy in Three Parts as 2004's best historical fiction book for children. In 2002, Peck was awarded the National Humanities Medal, as President Bush remarked, "Richard Peck has written more than 25 novels for younger readers which stress the importance of taking responsibility for one's actions."
Upon winning the Newbery, Peck said DePauw

[DOWNLOAD AUDIO: "Peck on DePauw" 603KB] "made a writer out of me. It warned me never to show my rough draft to anybody. That helps. I write each of my books six times because I have to, and it's the sixth version my editor sees and nothing before that. I learned that from DePauw professors."
Back