DePauw Mourns the Passing of Trustee and Loyal Alumnus James W. Emison III '52
December 29, 2005
December 29, 2005, Greencastle, Ind. - James Wade Emison III '52, a longtime member of DePauw's Board of Trustees and benefactor of the University, died yesterday at his home in Deephaven, Minnesota. Mr. Emison, who served as chairman of the board and CEO of Western Petroleum Company and president of Western International Trading Company, Food Services Inc., and JBJ Dining Inc., was 75 years old.
Funeral services will be held Thursday, January 5, 2006 at Wayzata Community Church, 125 Wayzata Boulevard West in Wayzata, Minnesota. The church's telephone number is (952) 473-8877 and it also has a Web site.
"Jim Emison's wisdom and generosity have been major factors in making DePauw University what it is today, and he will be sorely missed -- not only as one of DePauw's most loyal alumni, but as a very dear friend," said President Robert G. Bottoms. "Jim was a champion of everything DePauw: recruiting students, hosting interns, hiring graduates, talking up this institution to everyone he encountered, and serving with distinction as a Trustee. The sizeable financial
gifts he made to DePauw -- and the force of his personality in encouraging others to be generous as well -- have shaped DePauw into a University of increasing national significance."
Upon graduating from DePauw University in 1952, Jim Emison served the United States Marine Corps on active duty until 1954, then began his career in the oil industry. For more than a half-century, Emison was active in all aspects of University life. He took the lead on the $7 million dollar renovation of the William Weston Clarke Emison Museum of Art, which was dedicated in October, and co-founded the Center for Management and Entrepreneurship. Emison also served on DePauw's Alumni Association, played a key role in planning his class' 50th reunion in 2002, and established the John Rabb Emison Professorship of Creative and Performing Arts in memory of his father.
In 1987,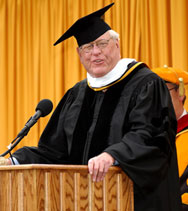 Mr. Emison was awarded DePauw University's Old Gold Goblet, presented annually by the University to an alumnus in recognition of "eminence in life's work and service to alma mater."
In May 2003, he was the recipient of an honorary Doctor of Humanities degree from DePauw.

[Download Video: "James W. Emison" 1000KB] "You're going to come this way but once; you're going to have but a single chance to create a meaningful and exciting life," Emison told the graduating class as he was honored. "Arthur Miller reminded us that most men live lives of quiet desperation. Permit me to suggest a different outcome. Learn to become good risk-takers, dream no small dreams, [and] don't play it safe. Rather, go for it and persist and persist and persist."
Emison also urged the 481 graduates to honor their obligations to their families, nation and University.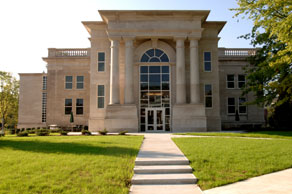 "Your future gifts to DePauw will permit this wonderful pattern of success -- what I call the DePauw mystique -- to continue unabated," he said.
Jim Emison is one of more than 40 members of the Emison family who have attended DePauw University. William Weston Clarke Emison was one of the founders of Indiana Asbury University (the name under which DePauw was founded by the Methodist Church in 1873). He sent two of his sons to the Indiana Asbury -- Thomas Posey Emison in 1849, followed by John Wesley Emison Sr., the first in his family to serve as a trustee of the University. Four consecutive generations of Emisons have served on the Board of Trustees -- meaning that for more than half of DePauw's history, an Emison has served on the board.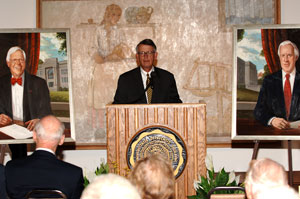 At the October 29 dedication of the William Weston Clarke Emison Museum of Art, which Jim Emison was unable to attend, his wife, Jane, called DePauw

[Download Audio: "His First Love" - 367kb] "his first love. He has not met a friend or an acquaintance that he has not informed of DePauw. So, if you didn't know about it, after you've had a conversation with him, you did."
Jim's cousin, E. Rabb Emison '47, declared,

[Download Audio: "A Heartfelt Declaration" - 606kb] "I love that man. His business activity is large and he has many features that can draw attention, while he displays Boy Scout virtues."
President Bottoms added,

[Download Audio: "Jim Emison's Love of DePauw" - 455kb] "Jim Emison is among the most dedicated DePauw alumni I have ever known. I have trouble imagining people who love this University more than Jim."
Jim Emison also served as a trustee of the American University of Central Asia, as a member and director of the executive committee of The Association of Governing Boards of Universities and Colleges, and as a member of the National Association of Scholars. He also served on the National Petroleum Council, as chairman of the Phi Kappa Psi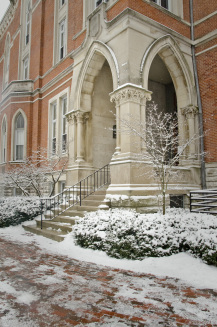 Endowment Foundation's Board of Trustees, and as a member of the American Petroleum Institute, the Northwest Petroleum Association, the Minnesota Petroleum Association, the Twin Cities Oilmen's Association, on the board of governors of the Marine Corps Association and as a trustee of the Marine Corps University Foundation.
Mr. Emison also served as a director of Hydrocarbon Trading and Transport Company; a founder, director and principal shareholder of the Community Bank Group in Minnesota; a partner in Bellwood Partnership, City Centre East and Riverview Business Plaza; and was a founder and former director of the Suburban National Bank.
In June, Jim Emison spoke at an event marking the 25th anniversary of DePauw's Management Fellows Program. His remarks are available below.
Jim Emison's obituary appears in today's Minneapolis Star Tribune. Access it here.
Back