Monon Bell Crowd Control Efforts Spotlighted in Indianapolis Star
December 31, 2005
Order Your Monon Bell DVD Here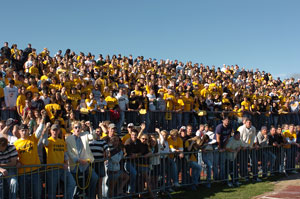 December 31, 2005, Greencastle, Ind. - "The Monon Bell football game was contested for the 112th time last month at DePauw University. Undefeated Wabash College was in town, and all of Greencastle, Ind., knew it," writes Curt Cavin in today's Indianapolis Star. The reporter examines recent episodes of unruly fan behavior at football games and cites the battle for the Bell as an example of a boisterous and enthusiastic crowd that was kept under control.
"An estimated 8,000 people attended the game, virtually all clad in either DePauw gold or Wabash red," Cavin continues. "Doug Cox, DePauw's director of public safety, monitored the tension from the southwest
corner of sold-out Blackstock Stadium. When a Wabash fan moved through the DePauw grandstands, Cox watched closely. When three DePauw students broke through a barricade to celebrate a fourth-quarter touchdown, Cox chirped instructions to officers on a two-way radio."
Cox tells the newspaper, "Our game plan is, 'Everything in moderation.' With a crowd like this, it's hard."

[Download Video: "2005 Monon Memory" - 9931kb]
Cavin notes, "The rival fans were kept apart with a stadium configuration that has two entrances. Cox's biggest concern came when euphoric Wabash students rushed the field after the final play of a 17-14 victory.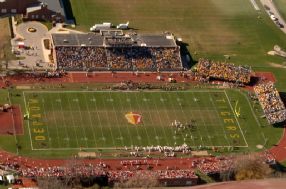 'That isn't what's supposed to happen,' he said. 'But our people didn't come out and engage them, so we got away pretty good.'"
Read the complete article at the newspaper's Web site.
You'll find coverage of the 112th Monon Bell Classic -- including video highlights -- here. Order your Monon Bell DVD by clicking here.
Back