TV News Attempts to "Remain Relevant in a Changing Journalistic Landscape," Prof. Jeff McCall '76 Writes
December 31, 2005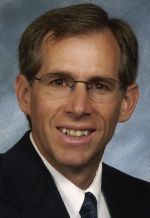 December 31, 2005, Greencastle, Ind. - "The situation at CBS," which named the head of its sports division -- who has no experience in journalism -- to also lead its network news unit, "is representative of the confusion that appears to pervade the upper echelons of the major network news operations as they try to remain relevant in a changing journalistic landscape," says Jeffrey M. McCall. The professor of communication at DePauw University contributes an op-ed to today's Indianapolis Star, adding, "The focus on journalism erodes as the networks try to keep their audiences from shifting to 24-hour cable news channels, the Internet and reruns of Friends.
McCall continues, "The networks are driven to make news more 'entertaining' to attract the younger demographics that advertisers seek. Sadly, the only apparent way to get young adults to watch news is to wait 20 years until they are older."
The professor, a 1976 graduate of DePauw, says sports and news are worlds apart. "The rights to broadcast sports events are negotiated and contracted. Not so for news events. Sports events occur at designated times and places. Not so for news events. Sports events are for entertainment and diversion. News is supposed to be the conversation of a democracy. Ex-jocks and loudmouths can pretty much cover the sporting scene. It takes professional journalists with vision to set the nation's news agenda."
Reports that CBS is considering Katie Couric as its new evening news anchor baffle McCall. "Although Couric has kept morning audiences happy for 15 years, one must wonder if her chatty, smiley style can translate to a serious news broadcast. It is one thing to keep a morning audience enthralled
with a heart-rending chat with the Runaway Bride, but another to win the credibility of a totally different audience in the evening. Can a person who has most often been described as 'perky' be the right fit for an evening network news program?"
McCall also questions ABC's decision to pair Elizabeth Vargas and Bob Woodruff as evening news anchors. "ABC News president David Westin hopes the dual-anchor 'Ken and Barbie' approach adapted from local television news can work at the network level. History is not on his side, as evidenced by the double anchor flops of Harry Reasoner and Barbara Walters at ABC in the 1970s and CBS' Dan Rather and Connie Chung in 1993. Westin defended the double anchor setup recently, saying, 'You need more than one anchor. One person can't do all of this.' Who knew that Peter Jennings at ABC and Tom Brokaw at NBC were overmatched all of those years?... Westin plans to get his new anchors out into the field frequently to cover the big stories in person. 'It always adds a lot of extra
weight to a story if the anchor is there on site,' he says. This statement further underscores the confused state of the television news world. There was a time when the "weight" of a significant news event was measured by its value as news. Now stories become big because of the presence of a network news anchor."
Access the column in its entirety at College News.org.
Jeff McCall appeared on FOX News' O'Reilly Factor twice in one week in October. Read more, and access video clips, by clicking here.
Source: Indianapolis Star
Back