Lee Hamilton '52 Offers 'A List of Worries' for the New Year
January 2, 2006
January 2, 2006, Greencastle, Ind. - As 2006 begins, "the sources of instability are many," writes Lee Hamilton, former congressman, vice chair of the 9/11 Commission, and 1952 graduate of DePauw University, in the Indianapolis Star. "Weak governments and failing states are unable to deal effectively with conflict and turmoil. Terrorism is not diminishing. More countries -- notably North Korea and Iran -- are seeking weapons of mass destruction. Separatist struggles in places like Chechnya, Kashmir and the Palestinian territories remain unresolved."
In an op-ed, Hamilton offers "A list of worries for 2006." He notes, "While we should support the spread of democracy, we have cause to worry about the results of democracy serving as a near-term antidote to this instability. Americans must recognize that democracy does not always yield outcomes to our liking. In Latin America, populist discontent has prompted a string of victories for left-wing governments that are ambivalent, if not hostile, toward the United States. In China, where we correctly support political reform, a too-rapid onset of democracy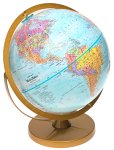 could lead to instability."
Hamilton, president of the Woodrow Wilson International Center for Scholars, also addresses "the popularity of 'political Islam,' fundamentalist Islam as a guiding political movement," which he says, "poses the most immediate concern. In the Middle East, Islamist movements are the only potent opposition to existing rulers. In Iraq, many Americans are uneasy with the probability that Shiite Islamist parties with close ties to Iran are emerging as victors of recent elections. In Egypt, where we are pressing for reform, the largest opposition party is the Muslim Brotherhood."
Migration is also creating unrest around the world, Hamilton asserts. "International institutions are failing to keep pace. The United Nations is falling behind nimble threats like terrorism, failed states and proliferation, and is not demonstrating the ability to reform. The International Atomic Energy Agency lacks the authorities and capabilities to conduct robust inspections of suspected nuclear sites. The World Trade Organization has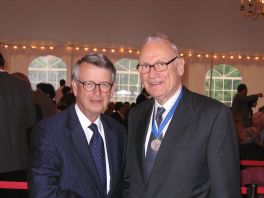 at times been a forum for finger-pointing rather than constructive action to resolve trade disputes and effectively advance international trade."
A veteran of more three decades in Congress, Lee Hamilton (seen at left with DePauw President Robert G. Bottoms) does see some bright spots. "There is no real probability of a clash between the world's great powers -- an achievement that is relatively unique in history. There is also no potential rival to U.S. power in the near future, though the costs of sustaining America's military advantage and robust role in the world are high. And, in the U.S. and many key economies around the world, growth appears to be on a solid trajectory."
Of the issues the world faces in the year ahead, Hamilton concludes, "If these troubling trends are to be turned into opportunities in 2006, effective governance will be key. We need to
implement effective solutions to these emerging problems, so that order replaces disorder, fledgling democracies are inclusive and not divisive, instability is addressed and not ignored, economic opportunity is more widely shared, and the international system is better able to keep pace with international challenges."
Access the complete essay at the newspaper's Web site.
In October, Lee Hamilton and others including former President Bill Clinton, were honored with the Four Freedoms Medal by the Franklin and Eleanor Roosevelt Institute. Learn more in this previous story.
Back