NAVTEQ CEO Judson Green '74 Featured in Crain's Chicago Business
January 3, 2006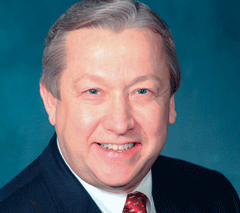 January 3, 2006, Greencastle, Ind. - "Former Disney Co. executive Judson Green, 53, relished James Stewart's recent book DisneyWar," notes a profile of Green in Crain's Chicago Business." Judson Green is a 1974 graduate of DePauw University and former chair of the Board of Trustees; James B. Stewart is a 1973 alumnus and the current board chair. Of DisneyWar, Judson Green tells Crain's, "I lived it."
"Since 2000, Green has helmed Chicago-based NAVTEQ Corp., which creates the geographic data that powers both Internet sites like MapQuest and the navigation systems in cars and PDAs," Crain'sreports, in a column that makes mention of his DePauw degree.
The feature points out that Green gets six newspapers a day. "I usually find that it's more efficient to save up a couple of days and then power through them," he says. Green says he particularly enjoys William Safire's "On Language" column in the New York Timesmagazine. "I wish I were an intern in his office. I think it's fascinating how he dissects language."
The CEO is also asked about his early influences. "When I was 9 or 10, my father told me, 'It's been said that if you read four books, you would have the equivalent of a college education. They're the Bible, dictionary, world atlas and Boy Scouts Handbook.' I totally consumed the world atlas and the Boy Scouts Handbook, and today I'm an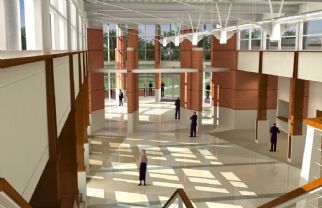 Eagle Scout running a mapping company," Green says.
Read the complete column, headlined "Info Junkie: World surveyor," by clicking here (a subscription to Crain'sis required).
In October, DePauw University announced that a $15 million dollar lead gift by Judson Green and his wife, Joyce Taglauer Green '75, will allow for a $29 million expansion and renovation of DePauw's 32-year-old Performing Arts Center (architect's rendering seen above right). The building, home to the School of Music and department of communication, will be known as the Judson and Joyce Green Center for the Performing Arts. Work is under way, and should be completed by the Fall of 2007. Learn more about the project in this previous story.
Back