Prof. Dave Berque's Role in Developing Innovative Software Highlighted in Star
January 9, 2006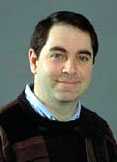 January 9, 2006, Greencastle, Ind. - The role of a DePauw University professor in creating innovative software that allows increased interaction and collaboration between students and teachers is noted in today's Indianapolis Star. The newspaper profiles Laura Small, president of DyKnow, and asks her who developed the technology that is being used in schools around the nation. "David Berque at DePauw University, while teaching a computer science course," she responds. "He developed technology in which students wouldn't have to be busy copying down notes and instead better understand what is being taught."
DePauw is also listed as one of nine Indiana schools using DyKnow's technology.
Access the Star story here, and learn more about DyKnow and the work of Dr. Berque, professor of computer science at DePauw, in this previous article.
The work of Dave Berque, who was named the 1997 U.S. Professor of the Year for baccalaureate colleges by the Council for Advancement and Support of Education, has been featured in stories by a number of media outlets, including CNN and USA Today. You can read more here, here and at ABCNews.com.

[Download Video: "Dave Berque - Professor of the Year" - 7427kb]
Also available is a video that shows Professor Berque and the system in a classroom setting:

[Download Video: "See The Video" 1427KB].
DePauw is among the "Top 50 Most Unwired College Campuses," in a survey of all institutions of higher learning -- big and small -- sponsored by Intel Corporation. DePauw is ranked #30 -- the highest of any liberal arts college in America -- in the report, which appeared in the October 17 edition of U.S. News & World Report. More than 1,000 campuses were included; only 50 made the final list. Survey findings are based on the percentage of campus that is covered by wireless technology, the number of undergraduate students and the computer to student ratio for each school.
Back