DePauw Students to Appear on CBS' Early Show Thursday
January 9, 2006
January 9, 2006, Greencastle, Ind. - DePauw University students who are spending their Winter Term studying in New York will make two cameo appearances on CBS' Early Show, this Thursday, January 12. Approximately 15 students will appear on the program's weather segments at 8 and 8:30 a.m. The undergraduates are in New York participating in "Capturing New York," an off-campus Winter Term course led by professors Tom Chiarella and Mike Sinowitz.
Jacqueline Natz, a 2005 graduate of DePauw, is the audience coordinator for the CBS Early Show, a position she assumed in August. Natz invited DePauw students to watch and participate in the weather broadcast because she feels that it will be a unique and memorable opportunity, especially for the students that may be interested in pursuing careers in television.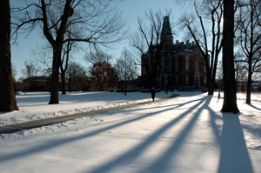 "Working for the CBS Early Show has been the most exciting adventure," Natz says. "I really feel that participating in internships and abroad courses during Winter Term was vital in preparing me for my job at the network."
DePauw junior Susanne Kerekes is spending her Winter Term interning in audience coordination with the CBS Early Show. A double major in communication and Asian Studies, Kerekes is interested in pursuing a career in some form of media. "This internship has surpassed all of my expectations and it allows me the opportunity to experience every aspect of television production," she states. "I have learned that the business is competitive. You have to constantly prove yourself and you can always do better. I'm keeping an open mind and open arms. I'm experiencing everything I can in hope to come across that one job that I can call my passion."
Visit the Early Show by clicking here, and learn more about "Capturing New York" and other off-campus Winter Term experiences here.
Jacqueline Natz encourages any student interested in television to contact her if they want help in obtaining a Winter Term internship with CBS. E-mail her here.
Back