Emeritus Prof. James Gammon Featured in New TV Documentary on the Wabash River
January 16, 2006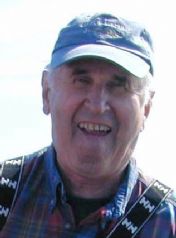 January 16, 2006, Greencastle, Ind. - A new documentary produced by Indianapolis PBS television affiliate WFYI, The Wabash: Life on the Bright White River, features interviews with Jim Gammon, professor emeritus of zoology at DePauw University. The one-hour program debuts Sunday, January 29 at 9 p.m. and "will take viewers on a 500 mile, 19 county adventure, which examines the delicate balance that exists between the Wabash River and the people who live along its banks," according to the producers.
"During the early portion of the eighteenth century, this regal river served as the principal route connecting Quebec fur traders with the New Orleans marketplace," WFYI notes. "Indians, French traders and early American colonists once called its majestic waters home by establishing settlements along its banks. By the turn of the nineteenth century, farmers relied on flatboats and steamboats to move their goods to marketplace by way of this legendary Indiana waterway. For more than two centuries, the Wabash River has served as a vital conduit for trade, travel and settlement in the Midwest. The Wabash, which derives its name from the bright white limestone that once shimmered through its waters, embodies a rich heritage of Hoosier folklore and early American exploration and discovery."
"The Wabash River -- Indiana's largest body of water, containing the

longest unimpeded waterway east of the Mississippi -- constitutes a fascinating chapter in our nation's history," says Ron James, executive director of the Wabash River Heritage Corridor Commission, which was a partner in the production. "From the corridor's impact on the Hoosier landscape to its role in influencing the lives of the people who live along it, this is a story truly worth telling," he adds.
Read more at the station's Web site.  A brief video clip of the program is available by clicking here.
Back