America's "Most Prominent Jules Verne Scholar," Prof. Art Evans, Publishes The Begum's Millions
January 13, 2006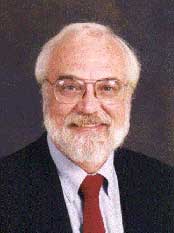 January 13, 2006, Greencastle, Ind. - Arthur B. Evans, a professor of modern languages at DePauw University who has been called America's "Most Prominent Jules Verne Scholar" by Forbes magazine, is the editor of a new, corrected English translation of Verne's The Begum's Millions. Gary K. Wolfe, professor of humanities and English at Roosevelt University opines, "This edition of The Begum's Millionsis a significant work of scholarship and an important contribution to the ongoing project of reclaiming and redefining Verne's reputation in the English-speaking world."
"A 'begum' is a kind of female Indian rajah," Dr. Evans notes. "Published in 1879, several years after the Franco-Prussian War, The Begum's Millions is one of Verne's earliest cautionary tales about technology and features his first mad scientist, a certain German weapons maker named Herr Schultze," the professor adds.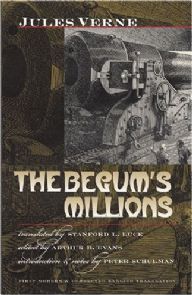 "This book captures Verne's verve and vision, never lapsing in its narrative drive, throwing off ideas in joyful glee," asserts Gregory Benford, professor of physics at the University of California, Irvine. "The 19th Century lives on!"
Read more about the book at the Web site of the publisher, Wesleyan University Press.
Art Evans serves as series editor for Wesleyan's Early Classics of Science Fiction series, which The Begum's Millions is a part of, and is managing editor of the journal Science Fiction Studies, which is published at DePauw. Last April, he received the Edwin L.Minar Jr. Scholarship Award along with Yung-chen Chiang, professor of history (the two professors are seen in photo at left). Established in 1981, the award is presented in recognition of exceptional scholarly achievement and is named in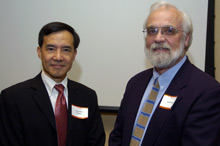 honor of its first recipient, a former professor in the department of classical studies.
In 2003, Evans edited the first English translation of Jules Verne's 1898 novel, The Mighty Orinoco. and last year was featured in Smithsonian magazine.
Read more about the professor in this previous story, and learn about his research here.
Back