Hockey is All in the Family of Michael Stuart '79
January 13, 2006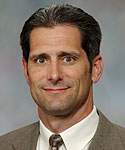 January 13, 2006, Greencastle, Ind. - An article at the Web site of the American Hockey League (AHL) details the talents of the Stuart family. Three members of the brood are professional hockey players, and a fourth competes in college hockey. "Michael and Nancy Stuart had little interest in hockey before their children began playing the sport," the story notes. "Born and raised just to the northeast of Peoria in LaSalle-Peru, Ill., Michael and Nancy met during their high school years and eventually married in 1978 after Michael had completed his undergraduate work at DePauw University and Nancy had finished her studies at the University of Illinois."
Dr. Michael J. Stuart (seen in top photo), an orthopedic surgeon and professor of orthopedics at Mayo Clinic in Rochester, Minnesota, is a 1979 graduate of DePauw. His son Mike, 25, is a defenseman with the AHL's Peoria Rivermen and played with the NHL's St. Louis Blues in 2003-04. Colin, a 23-year-old winger, "was drafted by the Atlanta Thrashers in 2001, and is in his second season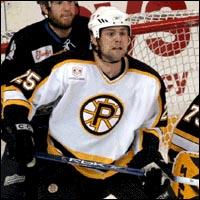 skating for the AHL's Chicago Wolves." Mark, 21, "ranks as perhaps the family's best NHL prospect. The 21-year-old defenseman was drafted by Boston with the 21st overall pick in the 2003 NHL Entry Draft, and is currently a rookie with the AHL's Providence Bruins... Mark [seen in photo at right] also captained the United States to its first-ever gold medal victories in both the World Junior Championships (2004) and the World Under-18 Championships (2002)." Finally, daughter Cristin is a sophomore at Boston College where she plays on the women's ice hockey team.
"My father wanted to go into sports medicine, so as a part of his studies at the Mayo Clinic, he was assigned to be the team doctor for the Rochester Mustangs junior hockey team," Mike Stuart says. "Colin and I started going to the games with him, and we really enjoyed that. That's how we first became interested in hockey.
When Mike and Colin Stuart were young, there parents signed them up for an ice skating class. One thing led to another, and they were soon playing hockey. "When my dad finished his residency and was asked to be a staff doctor, we moved into a bigger house in Rochester, and my dad built us a (hockey) rink in our backyard," Mike Stuart recalls. "We'd just throw on our skates and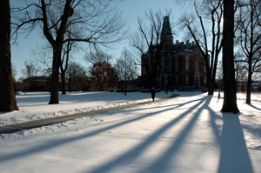 go right out there. We'd play until it got too cold or dark. Also during that time, we had maybe four to six different Mustangs players live with us over the course of several years. That was great because that gave us someone else to play with and learn hockey from. And we'd go to their games on Friday and Saturday nights and watch them. That gave us a different perspective, seeing those guys play and work so hard. Seeing how they moved away from home to play, and their dedication. That really inspired us, and we really looked up to them."
Access the complete story by clicking here.
Back