Coaches Greg and Laura Gvozdas ('98 & '01) Leading Girl's Soccer Team to Europe
January 13, 2006

January 13, 2006, Greencastle, Ind. - "Eighteen girls from The Community School of Sun Valley and Hailey's Wood River High School are headed to Europe for 14 days this summer as part of the 2006 Sawtooth United Premier soccer trip to Denmark and Sweden," reports the
Mountain Express
of Sun Valley, Idaho. "The local Sawtooth United Premier program (was) started in 2003 by Laura and Greg Gvozdas of Ketchum," who graduated from DePauw University, respectively, in 1998 and 2001.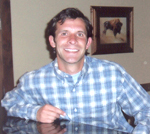 The story also notes that the Gvodas', who will be accompanying the players overseas, "both played soccer for DePauw University in Indiana."
Read the complete article at the newspaper's Web site. Greg Gvozdas (pictured at right), girl's varsity soccer coach at Wood River High School in Hailey, Idaho, was selected as 4A Fourth District 2005 Coach of the Year.  Learn more in this previous story.
Back