Indiana Journalism Hall of Fame to Induct 4 New Members April 22
January 14, 2006
January 14, 2006, Greencastle, Ind. - The Indiana Journalism Hall of Fame will induct four new members in April, including the late John R. Nixon, former general manager of Indiana's Peru Tribune and president and chief executive officer of Nixon Newspapers, Inc., the newspaper reports. "Other inductees this year include Joseph A. Angotti, former senior vice president of NBC News and former executive producer of NBC Nightly News with Tom Brokaw; Bettie Cadou, who was a reporter for many years with the Indianapolis News, earning more than 50 first-place awards for writing and photography; and Robert C. Kriebel, retired editor of the Lafayette Journal and Courier, who had worked there 40 years in a variety of positions."
The newspaper notes, "The Hall of Fame was created in 1966 by the Indiana professional chapter of the Society of Professional Journalists and housed at DePauw University. Those with significant Indiana ties who have demonstrated they are journalists of the highest distinction are recognized. The induction ceremony will be at 12:30 p.m.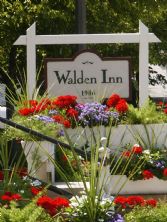 April 22 at the Walden Inn on the DePauw University campus in Greencastle."
Access the story by clicking here. For ticket information, call (765) 658-4406. Visit the Hall of Fame's Web site here.
The Society of Professional Journalists, which was founded at DePauw University in 1909 as Sigma Delta Chi, is dedicated to improving and protecting journalism. It is the nation's most broad-based journalism organization, encouraging the free practice of journalism and stimulating high standards of ethical behavior. SPJ promotes the free flow of information vital to a well-informed citizenry; works to inspire and educate the next generation of journalists; and protects First Amendment guarantees of freedom of speech and press.
Back