DePauw Senior and Faculty Member to Discuss Winter Term in Service Work with At-Risk Teens on San Diego NPR Affiliate Monday
January 15, 2006

January 15, 2006, Greencastle, Ind. - A DePauw University student and a faculty member -- senior Danny Shaver and Douglas E. Harms, professor of computer science -- will be guests on Monday morning's edition of These Days on San Diego NPR affiliate KPBS-FM. The pair will discuss the Winter Term in Service project they and 12 others are involved in with StandUp for Kids, an organization working with and providing support for street, homeless, and at-risk teenagers.
Dr. Harms and Valerie Rudolph, coordinator of DePauw's Compton Center for Peace and Justice, arrived in San Diego with 13 students on January 4. They'll return to Greencastle on January 25.
"The StandUp for Kids (SUFK) center provides an evening meal, showers, telephone, and other services for kids who are, for whatever reason, living on the streets of San Diego," Harms (seen at right) reports.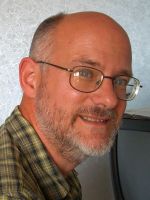 "The center is open from 5:30 to 8:00 every weekday evening, and during this time we help serve dinner, play games, and talk with the teenagers who come to the center. Approximately 10-20 street kids visit the center every evening. Interestingly, we also run into these same kids during the day as we walk around town, and it's interesting to interact with them when we meet them on the streets of San Diego."
The professor, the recipient of a Fulbright Award, continues, "We've also been studying homelessness during our stay here, and one of the activities some of us participated in last week was to spend several hours 'squatting' with some of the street kids. A squat is a place to sleep for street kids, such as a grassy area under a tree, an abandoned building, under a bridge, a doorway, etc. For 6 hourslast Wednesday night 5 of us chose to accompany our host kids as they travelled on trolleys, walked, did 'dumpster diving' where they went through trash cans scavenging for discarded food items and then ate and drank what they found,
and talked with them about their lives and life on the streets. It was an eye-opening and moving experience, listening to how these kids had been abused, repeatedly raped, and generally ignored and abandoned by society. I don't think anyone from the team will look at homelessness the same way again."
Participants in the Winter Term project have also visited a facility for adult homeless men and women, worked at a soup kitchen, and helped prepare meals for homebound HIV/AIDS patients.
Tomorrow's broadcast, which begins at 9 a.m. Pacific time, can be heard live online by clicking here and will be archived here. Learn more about StandUp for Kids here.
Back