A New Record: 4,200+ Applications Received
January 17, 2006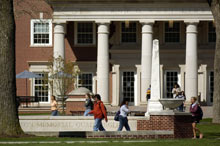 January 17, 2006, Greencastle, Ind. - DePauw University has received more than 4,200 applications for admission -- a new, all-time record high -- with two weeks remaining before the February 1 deadline for applying for regular notification. As of January 13, a total of 4,255 applications had been received, a 37% increase over last year at the same point, and eclipsing the previous record of 4,115 applications received in 2002-03.
"The level of interest expressed in DePauw, and the quality of the applicants, has been remarkable," says Stefanie Niles, dean of admission for the University. "This is further affirmation that DePauw is increasingly a top choice of the nation's most talented scholars. DePauw is poised to enroll a tremendous class in what is a very competitive admission environment," she adds.
The DePauw University School of Music is also having a strong year with 221 applicants, a 14% gain over the 189 received through the same period a year ago. Thirty-five students have applied to transfer to the University, a 40% increase over 25 a year ago.
"I want to thank the many alumni and friends of the University who have helped us reach out to some of the top students who live in their hometowns," Niles adds. "The 'DePauw network' only adds to the very strong reputation the University already has. When prospective students meet people who have a connection to DePauw, and then come to campus and spend time visiting with our faculty members and students, they realize what a unique opportunity matriculating here provides. To be able to study in small classes and receive individualized instruction in an environment as rewarding and diverse
as this is really appeals to prospective students, and they're very impressed by the achievements of DePauw alumni. We have much to be proud of, and the record numbers underscore that."
U.S. News & World Report has ranked DePauw in the nation's top tier of national liberal arts colleges for six consecutive years. The National Survey of Student Engagement finds that students at DePauw University enjoy significantly more academic challenges, interactions with faculty, collaborations with others and enriching educational experiences than students at peer institutions and the national average at all colleges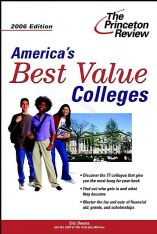 and universities. The Fiske Guide To Colleges 2006 ranks the University as one of 45 "best values," a designation Princeton Review also made in its 2006 edition of America's Best Value Colleges. Princeton Review also offers a very positive assessment of DePauw's academic programs in its 2006 guide to The Best 361 Colleges. The book's rankings place DePauw #1 in the nation for "major frat and sorority scene"; its student-run radio station, WGRE is rated the fourth-best college radio station in the USA; and DePauw is #15 for "more to do on campus".
Prospective students can learn more about the admission process and apply online by clicking here.
Back