"I Know I Have Changed," Senior Tells NPR Affiliate of His Winter Term Project Helping Homeless Teens
January 16, 2006

January 16, 2006, Greencastle, Ind. -

[Download Audio: "DePauw on These Days" - 412kb] "When you go to college in Indiana, the idea of spending January in San Diego must be pretty attractive," host Tom Fudge said on today's edition of These Days on San Diego NPR affiliate KPBS-FM. "That's what a handful of students from DePauw University are doing this year, but they're in San Diego to try to do some good," Fudge added as he welcomed DePauw senior Danny Shaver and Douglas E. Harms, professor of computer science at the University, to his program. Shaver and Dr. Harms are among a team of 15 from DePauw who arrived in San Diego January 4 for a Winter Term in Service project. They are working with StandUp for Kids (SUFK), an organization that provides support for street, homeless, and at-risk teenagers.

[Download Audio: "Danny Shaver '07" - 594kb] "A lot of these kids -- their parents are on drugs and are homeless as well, their parents have just said 'I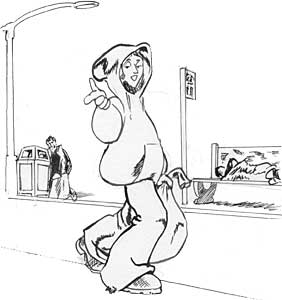 don't care' and have given up on them. Some of them are really strict with the kids, they say 'See you later, I'm out of here,'" Shaver told the program, adding that many of the street kids appear to have been victims of physical or sexual abuse at home. He noted that the students spent five hours one night "squatting" with homeless teens in a wooded area. "One kid that I met, that I squatted with, was actually a Marine who went to war and came back and kind of had some issues with his fiancee and with his parents (and) decided that he wanted to be on his own for a while. So there's any multitude of reasons, but a lot of the reasons have to do with any kind of personal trauma or domestic abuse."
Professor Harms pointed out that the San Diego trip is one of five Winter Term in Service trips that involve more than 100 students and faculty members this month, all around the globe.

[Download Audio: "Professor Doug Harms" - 336kb] "The 'service' part is, we're trying to help people," he told the NPR station. "We're not going to San Diego to see all the sights, even though there are some beautiful sights here and we have seen some of them. But our main purpose of being in San Diego is to work with non-profit organizations to help somebody -- help, in this case, the street kids."
Harms, who has supervised other Winter Term in Service trips in past years,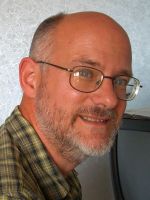 says this one has been particularly educational.

[Download Audio: "Eye-Opening" - 456kb] "In some ways this is the scariest trip for me, because I've encountered homeless people before and, to be honest with you, I've kind of ignored them. I see them on the streets and I walk on the other side... and I knew that on this trip I'd have to confront them. And so, I know I have changed and I'm hoping that the whole team has changed so that throughout our lives we'll be able to understand homeless issues (and) maybe be more active in our own communities to, you know, help them," he says.

[Download Audio: "Connecting" - 722kb] "For me, it's just about connecting with fellow human beings... who are my own age," states Shaver, an English writing major from Richmond, Indiana. "I learn about how to connect with people that I can and cannot relate to, and I learn about myself -- what it means to do for others and what it means to give back and what it means to learn from others. I truly believe that every human being has the ability to teach and has the ability to learn. And so no matter who you are, what you come from, what your background is, I can learn something from you and you can learn something from me and we can join together in solidarity to make something
happen, to accomplish something positive, to keep hope alive."
The DePauw senior says that his goal over Winter Term is

[Download Audio: "A Student's Goal" - 379kb] "to empower people to keep hope alive. And if I can inspire one person to have hope for a better tomorrow, then I've done my job. And they give me hope because I can see the humanity in them, that they are great kids that don't deserve to be on the street. They're really smart, and given the opportunity and given the chance they could thrive in this world."
Today's segment, which lasted approximately fifteen minutes, is archived here. Learn more about StandUp for Kids here, and read more about the Winter Term in Service project in this previous story.
Back