Composer James Nathaniel Holland '88 Opens 'Casa Holanda' in Costa Rica; Will Welcome Fellow Alums Next Month
January 17, 2006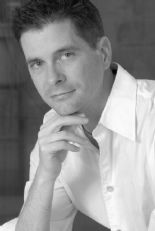 January 17, 2006, Greencastle, Ind. - James Nathaniel Holland, a 1988 graduate of DePauw University, "has never been one to settle down somewhere or into something for too long." begins a story in the
Journal Review
of Crawfordsville, Indiana. "Off-Broadway acting and film work in Los Angeles. Peace Corp. training in Haiti. Music composition and the formation of the Northern New Jersey Camerata. It's all on the resume. Now the classically-trained composer may have finally found a permanent home -- in climatically perfect Costa Rica."
The article tells of Holland's August purchase of a three-bedroom home there. "Much like his Northern New Jersey Camerata -- which brought various composers together in Holland's previous home to produce each other's works and make new contacts -- Holland has named his new space 'Casa Holanda,' meaning 'Holland House,'" writes Wade Coggeshall. "Located among the coffee fields of San Pablo de Heredia, Holland has turned it into a guesthouse for tourists and a performance space for Costa Rican musicians, much like his earlier camerata... The guesthouse is just getting off the ground. Holland has company booked in February -- coincidentally DePauw University alumni, where he went to college for music training. His other goal of making Casa Holanda a musical meeting place has already begun. Holland hosted a successful invitation-only event that featured him performing
some of his works on piano. Future gatherings will feature national and international performers."
The newspaper reports that Holland is discussing musical partnerships with Jose Arturo Chacon, director of Costa Rica's opera program. "There's a possibility to grow (here) as an artist," Holland says. "In New York it's saturated. It's based on business. A lot of it's on commercial value, and people are not willing to take risks there. They need a sure thing to cover the cost. In Costa Rica it's much cheaper to produce something. I think people are more open-minded here. They're willing to take risks. They want good quality. But they're very open to new ideas, open to new people. That's the main reason why, artistically, I moved here."
Read the complete story at the Journal Review's Web site, and visit Casa Holanda online here. Learn more about Holland, and the premiere of his comic opera The Discontented Housewife, in this previous article.
Back