John Dillon '82 Appointed Chief Deputy Mayor of Indianapolis; Keira Amstutz '91 Named Mayor's Chief Counsel and Policy Director
January 18, 2006
January 18, 2006, Greencastle, Ind. - John J. Dillon, a 1982 graduate of DePauw University, has been appointed chief deputy mayor of the city of Indianapolis as well as chief of staff for Indianapolis Mayor Bart Peterson. Keira Amstutz, a 1991 DePauw alumna, "who has led the city's successful efforts on cultural development since 2000... will take on a new role as chief counsel and policy director for the mayor," reports Inside Indiana Business.
"Whether in the public sector or private sector, John Dillon is one of the most experienced people I know," Mayor Peterson says. "He is smart, astute and very tenacious, and I look forward to his leadership of my team and the city of Indianapolis."
Dillon becomes chief deputy mayor immediately and assumes the chief of staff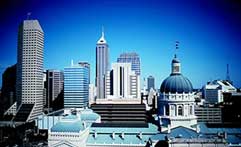 position in March. He previously served the state of Indiana as commissioner of the Department of Insurance, commissioner of the Indiana Department of Transportation and executive director of the Hoosier Lottery. After leaving state government, he worked as the chief administrative officer for a local GIS firm and then became chief operating officer of Standard Management Corporation. Recently, he advised Mayor Peterson on the Indiana Stadium and convention center expansion project and helped oversee the city's acquisition of the Indianapolis Water Company. He also has served as president of the Indianapolis Local Improvement Bond Bank Board since 2000.
"The essence of city government is to make sure that 'the trains run on time' every single day," Dillon states. "I'm looking forward to making sure that Indianapolis is the best run city in America and that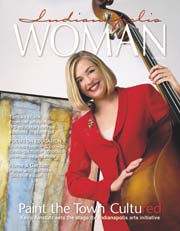 neighborhoods, schools, businesses and residents alike are receiving the top-quality services they deserve."
Inside Indiana Business also reports, "In her new role, Amstutz will focus on policy development and strategy for the Mayor's administration. Amstutz... joined the mayor's team in January 2000, first as assistant deputy mayor for public affairs handling various policies issues for the city. She however has spent most of her time leading the mayor's effort to make Indianapolis a cultural destination as administrator for the Indianapolis Cultural Development Commission." (image at left shows Amstutz on the cover of the August 2001 issue of Indianapolis Woman magazine)
The announcement notes the DePauw degrees of both appointees. Access it by clicking here.
Back